"Peace" will now be part of the curriculum for Cambodian students as the Ministry of Education partnered with peace advocacy group, HWPL to include it as a subject.
The official opening will be held at the Royal University of Phnom Penh on February 21st, this week.The event is expected to draw over a thousand attendees, including the Minister of Education of Cambodia and other prominent officials in the Cambodian government and the field of education.
"From this launching ceremony, we step forward to the implementation level to integrate ideas of peace education into the curriculum in Cambodian schools," said H.E. Hang Chuon Naron, the Minister of Education.
In September 2018, HWPL conducted a pilot education program 'HWPL peace value' by assigning four among the twenty leading schools of peace education.
The pilot was instrumental in promoting 'peace value' as an introductory course to all educational institutions in Cambodia.
"Everyone has shared his or her own definition of what is real 'peace' and has experienced it during the pilot education", said a student. "I never knew the world was this ugly, even when it is seemingly peaceful. After this lesson, I will be one who is more aware about conflict and war."
Sang-dae Lee, the Chief Branch Manager in Jeonbuk branch states, "This series of peace events strengthens cooperative partnership between the government of Cambodia and HWPL, an international network for development through education, and overall facilitation of Cambodia-Korean friendship.
On 21st and 22nd, February, Chairman Man Hee Lee of HWPL as a peace activist will appeal to Cambodia by highlighting that all people become messengers of peace to achieve a world of peace."
World peace is an ongoing effort and the international NGO, HWPL, has drawn a comprehensive framework called the Declaration of Peace and Cessation of War (DPCW) for the United Nations to adopt.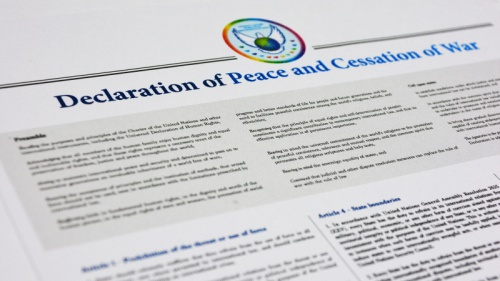 The DPCW addresses principles of conflict resolution and international cooperation for peacebuilding such as prohibition of use of force, peaceful dispute settlement, and spreading a culture of peace, within 10 articles and 38 clauses.
Peace building is no doubt a state responsibility, but the Kingdom of Cambodia has shown that World Peace can start early and it is a shared ownership.Follow us on Social Media
Send in your scoops to news@theindependent.sg