It is insidiously poisonous to think that despite being paid millions of dollars as a public servant, one is still "not paid enough".
Emeritus Senior Minister Goh Chok Tong may explain away his remarks at a recent public forum, but the pattern of similar thinking among members of his party is worrying.
ESM Goh's views, which fall within the definition of "casual snobbery", as described by Straits Times Opinion Editor Chua Mui Hoong, may in fact not be so casual.
"[Casual snobbery] refers to the thoughtless, unspoken assumptions about class and social distinctions that leak out in jokes, off-the-cuff remarks and stereotypes," Ms Chua said in her article in the Sunday Times, "Beware casual snobbery that shows contempt for ordinary folk."
Ms Chua asked later in her article, "how prevalent such a view is among the elite in Singapore, that is, of equating a person's ability to contribute to society by the size of his salary; and conflating a person's net worth with his intrinsic worth as a person."
"And if such a mindset were indeed not uncommon, would such views have a way of leaking into policy?" she asked.
I would argue that such elitist views are not "casual" among the political elite, and by this I refer to the People's Action Party's (PAP) ministers and MPs. In fact, I believe it is entrenched, widespread among not just the MPs but also the rank-and-file members of the PAP, and – perhaps most worrying – actually believed as a truth by these groups: that the PAP is, because of history, superior to everyone else in all things.
ESM Goh's views – that those who earn lesser are "very very mediocre" – are not his alone. Neither are the PAP's views that the lesser educated or those less experienced (in work or political office) worthy of higher respect.
If one were to go back several decades, even the late Lee Kuan Yew was guilty of such thinking, for it was he who, quite publicly, ridiculed Mr Chiam See Tong as a candidate for election in 1984.
The PAP's man, who Mr Lee naturally was championing, was Mah Bow Tan.
"Mah Bow Tan, age 16, took his 'O' Levels – six distinctions, two credits," Mr Lee boasted to a rally crowd. "Mr Chiam, age 18 – six credits, one pass."
Mr Chiam went on to win Potong Pasir for the first time that year – and successfully defended it till 2011, serving 27 years as MP and now a highly respected opposition leader, even by PAP ministers and MPs.
Mr Lee's snobbery, that was what it was, unfortunately again reared its elitist stench in the 2016 by-election in Bukit Batok – this time through the mouth of minister Grace Fu.
In her earnestness to rally support for the PAP candidate, Ms Fu poured scorn on Chee Soon Juan, the candidate from the Singapore Democratic Party (SDP).
"He wants to be a full-time MP," Ms Fu said, referring to Dr Chee. "As far as I know he's not held a full-time job for a long time… The work experience is essential. It'll be interesting to see if there is a referral letter from Chiam See Tong."
Ms Fu's remarks smacked of ignorance, and quite shocking coming from a minister. Dr Chee had been busy with lots, from making a living writing academic papers, to organising events with his party, and coming up with detailed alternative policies.
To Ms Fu, these are not "work".
But more than that, it was a condescending attitude to take towards a fellow human being, to ridicule him for not having had a full-time job when she knows exactly why this was so. Dr Chee had been persecuted for more than 25 years by her party, so much so that getting a job in Singapore is difficult for Dr Chee.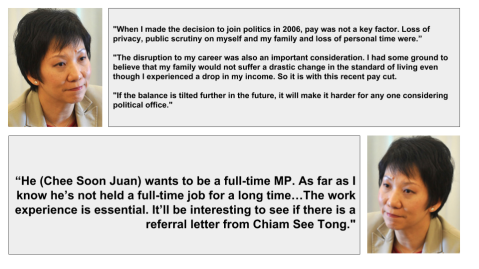 And when ministers' salaries were being reviewed, Ms Fu warned that any cuts to salaries should not unduly affect ministers' "standards of living". Keep in mind that ministers, even with the cuts, would still draw the highest salaries for public servants in the world.
"If the balance is tilted further in the future, it will make it harder for any one considering political office," she said.
But Ms Fu is not the only one in the PAP who carries such elitist views so naturally.
Dr Lim Wee Kiak, MP for Sembawang GRC, once bemoaned how difficult it would be for the Minister for Information, Communication and the Arts (Mica) to even speak to chief executive officers in the private sector, who are paid millions, if the minister himself drew only a salary of $500,000.
"Hence, a reasonable payout will help to maintain a bit of dignity," Dr Lim said.
"A bit of dignity", apparently, costs more than half a million.
In 2009, news broke of a civil servant who took up a cooking course in France – a course which cost $46,000.
Speaking in Parliament on the resultant uproar, MP Charles Chong said the rebuke directed at the officer by the House then was "harsh".
"Maybe it made lesser mortals envious and they thought maybe he was a little bit boastful," Mr Chong said. "Would people have taken offence if his wife (a senior investment counsellor at a bank) had paid for everything?"
The term "mere mortal" has stuck to this day, and will probably join ESM Goh's "very very mediocre" in the Hall of Fame for the most blatantly elitist description of Singaporeans.
And then there is that haughty boast by then new PAP candidate, Koh Poh Koon, in an interview during the Punggol East by-election in 2013.
"Well, everybody has a car, we have two — my wife drives one, I drive one. We are both professionals, we need to travel."
What caught my attention was not the fact that he revealed he and his wife drove a car each – something which many online had criticised him for.
What threw me was his remark – "We are both professionals…" – and the way he said it, with a smirk on his face.
"We are professionals…"
Those 3 words were most revealing of what went on in his mind. It speaks of a certain sense of entitlement, a certain superiority that comes with being a "professional".
Dr Koh, who lost in that by-election, is now a Senior Minister of State, having been fielded in the 2015 elections in PM Lee Hsien Loong's constituency in Ang Mo Kio.
So, ESM Goh's remarks are not peculiar to the former prime minister – they are prevalent among the leadership of the PAP and the government.
So, in light of how inequality has become such a serious problem in Singapore, the question is: can an elite political class which thinks so highly of itself (hence the constant lament of not being paid enough) and so little of the rest, the masses ("lesser mortals", "very very mediocre"), can such an elite really understand the reality which the majority of us live in, and empathise with us?
If you pay yourself so many millions and yet keep thinking it is still not enough, then I think you are pretty detached from what is real.
In 2012, I attended the wake of former Deputy Prime Minister Toh Chin Chye at his home.
The first thing that struck me was how simple the home was. It was quite evident that the house had remained much as it had from years past. The paint on two of the main doors were peeling, the wall is evidently older despite the paint, and even the ceiling lights were nothing to crow about. In fact, two flourescent tubes had to be added in the hall as, I suspect, it would be too dim otherwise.
But what really took me by surprise was the mosaic tiles in the living room floor. I have not seen such flooring since I was a kid, really. And that is some years ago. You certainly do not see such tiles being used in modern houses anymore. I took a picture of it: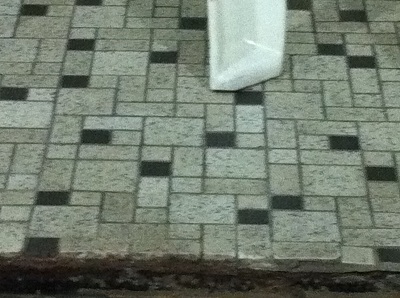 It told me more about Dr Toh than all that has been written about the man.
It told me that he had his feet firmly on the ground.
While we do not expect our leaders now to live as ascetics, we do expect them to be men and women who look beyond the material.
And let's get one thing straight: we, taxpayers, do not pay our ministers peanuts. They are well paid, in the millions which an ordinary hardworking Singaporean can only dream of.
I mean, the president earns $9m a term.
The Prime Minister is paid $11m a term.
An entry level minister earns $5.5m a term.
An ordinary rank-and-file MP earns $1m a term.
A senior parliamentary secretary is paid more than the President of the United States.
And this is still not enough?
What kind of lifestyle are you living as a public servant paid by taxpayers money that even millions are not enough to sustain?
In the words of the late Mr Lee: have a sense of proportion. Follow us on Social Media
Send in your scoops to news@theindependent.sg