17-year old Ben Davies' National Service (NS) predicament once again shines the spotlight on the 1992 case of Patrick Tan, son of former president Tony Tan. Some compare the two cases and question Mindef's decision to not grant Davies the deferment he sought in order to fulfill contractual obligations with English Club Fulham.
Singapore males of age 18 are required by law to serve NS. Deferments are rarely given, and the criteria are strict. For example, sportsmen must be representing Singapore at the highest levels in order to be granted deferments.
Pre-1992, however, deferments were relatively easier to apply for.
That was how Tan was able to disrupt his NS for 12 years. The reasons given by Mindef in 2011, when the controversy surfaced during the presidential election period (Tan's father, former Defence Minister and Deputy Prime Minister Tony Tan, was a candidate), was that the Singapore Armed Forces (SAF) needed medical officers.
But from 1992, which coincidentally was the fourth year of the initial period of Tan's disruption from NS, Mindef no longer granted deferments for medical degree studies.
The initial 4 years of deferment were to allow Tan to complete his pre-med studies in Harvard, a requirement for his main degree in the states, and then on to Stanford.
"After graduating from Stanford, I returned to Singapore in 2000 ready to complete my National Service in whatever post I was assigned," Tan said in his 2011 statement. "I knew that I had this obligation to complete. My father had since become Minister of Defence, but if anything that made it all the more important to carry out my duty."
He was attached to the Defence Medical and Environmental Research Institute to serve out the remainder of his NS.
You can read Tan's statement here.
The issue of NS deferment again surfaced 2 years later, when one Joseph Schooling was granted a 3-year disruption from his NS, till 2016 when he would compete in the Olympics. Schooling did compete and became a sensation when he beat Olympic legend Michael Phelps in the 100m butterfly event in Brazil.
Dr Ng Eng Hen, Defence Minister, when asked in Parliament if Schooling would be allowed to extend his deferment from NS, said:
"When we deferred him in 2013 so that he could compete – train, compete for the Olympics – it was based on known conditions that I already explained to Parliament. And if he continues to meet those conditions, I don't see why not."
Schooling was granted an extension to his NS deferment till 2020, when he is again expected to compete in the Olympics.
So, how does Mindef decide who is given deferment, since not everyone is a "clear-cut case", in Dr Ng's words, like Schooling?
In the case of Davies, Mindef explained that  Davies "does not meet the criteria for long-term deferment from full-time NS".
"As all male Singaporeans liable for full-time NS put aside personal pursuits to dutifully enlist and serve their NS, it would not be fair to approve applications for deferment for individuals to pursue their own careers and development.
"Very few applications have been approved over the years and based on criteria which are made known to the public. In sports, deferments are granted only to those who represent Singapore in international competitions like the Olympic Games and are potential medal winners for Singapore. In the last 15 years, only three have met this criteria."
Davies earlier this year was called to the national team, but it is unclear if this means he qualifies under Mindef's criteria, since Singapore football is not expected to win any medals in any international competition, given its pathetic state at the moment. Singapore is ranked 169th in the world by FIFA.
So, what are the options for Davies?
He foregoes the stint with Fulham for now and go serve out his NS, and then return to his football after that. He would have to come to an agreement with Fulham that he could return to the club after his NS.
He disregards his NS obligations and leave for the UK, and never to return to Singapore. This would be a major decision and his parents would have to seriously think through the consequences, which include being arrested upon any return here.
Serve his NS and work with Mindef so he could have time to continue his training, albeit he won't be training with Fulham obviously. (SNOC chief Tan Chuan-jin had raised this options for sportsmen in 2015.)
Much will depend on whether Fulham is willing to wait for Davies, if he chooses to serve out his NS first. It would be the best outcome, given that Davies would still only be 20-years old then.
But Davies could also choose to play for two other countries, under FIFA rules. This is because Davies was born in Thailand, and thus qualifies by birth and heritage; and his father is English which means Davies qualifies by heritage to play for England.
If he chooses either of these options, it would be a sad day for Singapore indeed, and it would highlight how in the attempt to instill patriotism in our young people, we are instead doing exactly the opposite.
Incidentally, in 1983, 21-year old Fandi Ahmad – arguably Singapore's best football player ever – signed for Dutch club FC Groningen. It was a proud moment for our country. It is thus sad that Ben Davies' similar achievement now has instead caused so much angst and anger.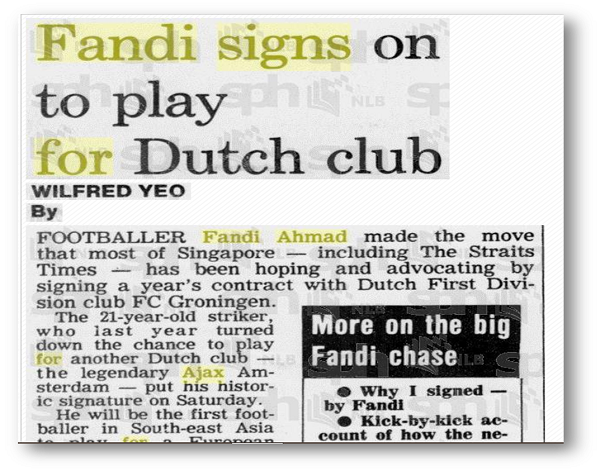 Follow us on Social Media
Send in your scoops to news@theindependent.sg