Cities all around the world are growing at an exponential rate. While cities have become centres of business, government, and culture, citizens are gradually experiencing the downsides of living in cities.
Bigger cities entail longer commutes to and from work. This is often the case since the people cannot afford housing near their workplaces. The lack of public transportation pushes people to get cars which then contribute to pollution.
According to a report by the World Economic Forum (WEF), cities are responsible for 60% of greenhouse gas emissions and use up to 78% of the world's energy.
Because of its rapidly growing population, Melbourne plans to address the lack of affordable and accessible housing for its citizens. The Plan Melbourne initiative intends to design neighbourhoods in a way where workplaces, medical centres, and leisure activities are all a mere 20-minutes away. Citizens are encouraged to leave their car behind or not own a car at all. Everything shall be accessible on foot, through cycling, or through local public transport.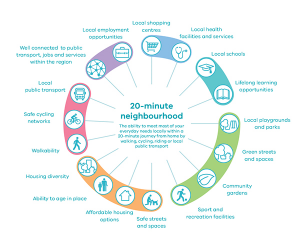 Melbourne is not the only major city that plans to do away with cars. More cities are taking steps towards creating walkable cities. New York has redesigned Times Square to be more pedestrian-friendly. Barcelona plans to be entirely 'car-free' in the future. Hamburg is adding more 'green paths' for pedestrians and bicycles.
Singapore has also been implementing "Pedestrian Nights" and "Car-Free Weekends," transforming streets into lively centres for dining and culture.  An urban planner from the World Bank described Singapore as having "the best public housing program in the world," praising the city's well-designed neighbourhoods, smart use of urban density, affordable housing programme, and strong long-term political commitment to sustainability.
The World Economic Forum reported that cities are faced with several niggling issues when it comes to addressing the housing problem. On one hand, supply side problems include: housing costs rising faster than incomes, supply of houses not keeping up with demand, scarcity of land, and demographic changes such as population growth, ageing and changes in household composition.
On the other hand, the demand side issues include exploring different options for tenure (i.e. build-to-rent, shared ownership and shared equity ownership), promoting rental control systems that benefit both tenants and landlords, and long-term sustainability of affordable housing.
Addressing the sustainability of affordable and livable housing in cities requires a multi-stakeholder cooperation with the government, private sector, and non-government organisations having key responsibilities in creating and maintaining livable cities, according to the WEF report. -/TISGFollow us on Social Media
Send in your scoops to news@theindependent.sg