Ahhh, wedding gatecrash parties—who doesn't love them? It's always a fun part of a wedding when bridesmaids set up a series of challenges for grooms and groomsmen to complete before the groom is finally allowed to see his bride.
One such challenge involved a groom and his groomsmen dressed looking like members of People's Action Party (PAP) election candidates, with the men all dressed in white and bedecked in flower garlands. Some of the men in the photo carry signs with a logo similar to that of PAP's, but significantly different as to not infringe on copyright laws, the groom said.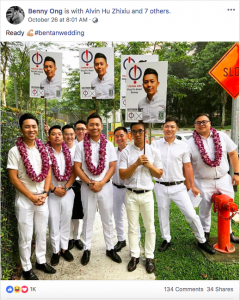 The groom in question is 32-year-old entrepreneur Benny Ong, who has political aspirations, something that his friends know well. "My friends know me for being an authoritative and opinionated person, and that I am interested to be a Nominated Member of Parliament," he told The Straits Times on Sunday, October 28. He added that he and his bride, Rachel Tan, a 27-year-old businesswoman, were tickled by the idea.
He would like to advocate for the educational system one day if he is given a chance to run for election as an NMP, a scheme introduced in 1990 to allow alternative voices to be represented in Parliament. The public, along with seven different sectors, proposes the names of those to be put forward as candidates. These sectors are the arts, media, and sports; tertiary education institutions; the civic and people sector; business and industry; the labour movement; the professions;  and social service organisations.
The groom posted a photo of him and his friends on Facebook, not expecting that many people would like and share it. To the groom's astonishment, he received congratulations from Nee Soon GRC MPs K. Shanmugam and Louis Ng. Mr. Shanmugam, the Minister for Law and Home Affairs, re-posted the gatecrash photo, along with the caption,
"I am always looking out for people to help in our work in Nee Soon. Good to find so many new potential recruits!
Best wishes, heartiest congratulations on your wedding."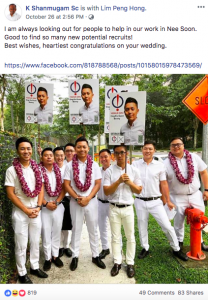 The groom was thankful for the well-wishes, and said, "I didn't want to get myself into trouble, so it is nice to see people in the Government thinking that it is a joke… It's good to see that they are open-minded."
The next day he posted yet another photo of the gatecrash, expressing his joy and thanks.
"All I know is that I posted a casual group shot of our gate crash attire, and after my tea ceremony and lunch, I got massive text and tags from friends, reporter from paper calling to ask whether I am serious about being an nmp, K Shanmugam Sc send me his blessing for my wedding, and other social media pages publishing it.
Day 1 has been amazing, last night I was so full with love. Pardon me for not replying for all the well wishes, wanna stay present and away from social media as much throughout this wedding.
Day 2 CHIJMES, here we go!"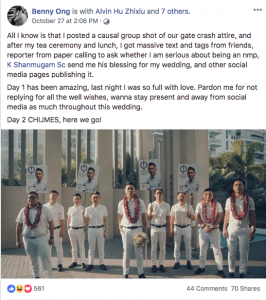 He told the ST that his one regret was that the women in the bridal party had been unable to join the gatecrash.
"By the time we thought of the gatecrash idea for the groomsmen, the bridesmaids had already bought their dresses. If we had thought of it earlier, we would have asked the bridesmaids to be dressed in blue and to carry hammers."
The color blue and hammers are both symbols of the opposition Workers Party.
Netizens congratulated the groom, on his wedding as well as his creativity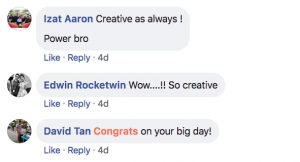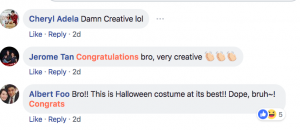 Others joked that they would vote for him


And the groom did not neglect to graciously thank the Minister for Law and Home Affairs for his greetings.

Read related: K Shanmugam: Government in the middle when it comes to laws on gay sex, but ultimately society has to decide
Send in your scoops to news@theindependent.sg