The Malaysian Anti-Corruption Agency (MACC) said today it was shocked by the acquittal of Malaysian Finance Minister Lim Guan Eng and businesswoman Phang Li Koon over the alleged conversion of land status and purchase of a bungalow below market value.
High Court judge Justice Hadhariah Syed Ismail acquitted both the accused and decided the charges be dropped despite the prosecution only proposing a discharge not amounting to an acquittal.
Netizens are starting to go into a frenzy, either showing support for Lim or attacking the Pakatan Harapan government over the acquittal.
Nurul Izzah Anwar, a high ranking PKR leader tweeted that the Attorney General's office has to explain itself on this matter.
Pejabat Peguam Negara harus tampil memberikan penjelasan https://t.co/xp4hv8TJDu

— Nurul Izzah (@n_izzah) 3 septembre 2018
In a statement in Malay, the MACC today said it was not responsible for the demand for acquittal, adding that the demand to the judge was made by the Attorney General's office.
The joint trial of Lim, who is former Penang chief minister, and Phang, was in connection to the conversion of land from agriculture to residential status, and the purchase of a plot of land and a bungalow at below market value.
Lim was sworn in as Finance Minister on May 21, following Pakatan Harapan's victory in the May 9 polls and this was seen to be against PM Tun Dr Mahathir Mohamad's advise that he settles his corruption case before taking over as Minister.
He was charged with using his position as chief minister to gain gratification for himself and his wife Betty Chew.
The new opposition in Malaysia campaigned after the elections against Lim's appointment as Minister, saying he faced the same charges as a former Menteri Besar of Selangor who was jailed for the same offences.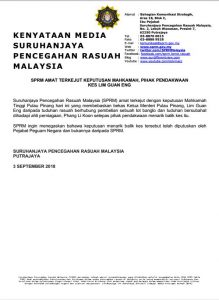 The MACC statement above says:
"The MACC is shocked by the decision by the Penang High Court in acquitting the former chief minister of the charges of corruption in relation to the sale of a bungalow lot and the charge of conspiring with businesswoman Phang, after the prosecution retracted the case.
"The MACC would like to stress that the decision was made by the Attorney General's office and not the MACC," it said in a statement Monday.Follow us on Social Media
Send in your scoops to news@theindependent.sg 
No tags for this post.