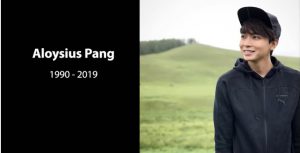 After sustaining serious injuries during a Singapore Armed Forces (SAF) training exercise in New Zealand, Aloysius Pang's body succumbed and died Thursday, January 24, 2019. His body is on its way back to Singapore
The Accident
Jan 19 was a "fateful" day for the Singaporean actor. He was tasked to repair an alleged fault in the gun barrel of a Singapore Self-Propelled Howitzer (SSPH). As Pang, another technician and a gun detachment commander were inside the howitzer cabin, the gun barrel was lowered to its standby position.
"It appears from the initial findings that Aloysius was unable to get out of the way as the gun barrel was lowered," said MG Goh. "He was caught between the end of the gun barrel and the interior of the SSPH and he suffered crush injuries as a result."
According to MG Goh, when the gun barrel is lowered, the space in the howitzer cabin is reduced. But the space is "typically sufficient" for artillery operators as well as technicians to operate, he said.
It takes about nine to 10 seconds for the gun barrel to be fully lowered, said Colonel (COL) Terry Tan, commander of the Combat Service Support and Command (CSSCOM).
On the inquiry as to who lowered the gun barrel and if there were any lapses in safety procedures, MG Goh said they will have to conduct an investigation first as it was not "appropriate" to talk of details prior to a completed investigation.
The matter on compensation for Pang's family was brought up and on this, Secretary of the Armed Forces Council and director of manpower Lee Chung Wei said the SAF "follows the principles" of the civil courts as well as the Work Injury Compensation Act.
"In fact, in many cases, we are more generous than that. But due to confidential reasons, we do not speak about the specific compensation for the families. This is something we will only speak to the families about," he said.
The SAF is liaising with New Zealand authorities on repatriating Pang's body to Singapore, Mr. Lee added.
Dasmond Koh, Pang's manager, informed media men there is possibility of a memorial service in his home country so that "all of his fans and loved ones can say goodbye.".Follow us on Social Media
Send in your scoops to news@theindependent.sg 
No tags for this post.