A donor has allegedly contributed $10,000 to Workers' Party leader Low Thia Khiang, after Low, WP chairman Sylvia Lim and secretary-general Pritam Singh appealed to the public for financial assistance to fight the multi-million dollar lawsuits they are facing in court.
Sharing a picture of a UOB cheque, payable to Low Thia Khiang for $10,000 dated 25 Oct, to Facebook page All Singapore Stuff, one anonymous donor indicated that he is making the contribution to save his constituency: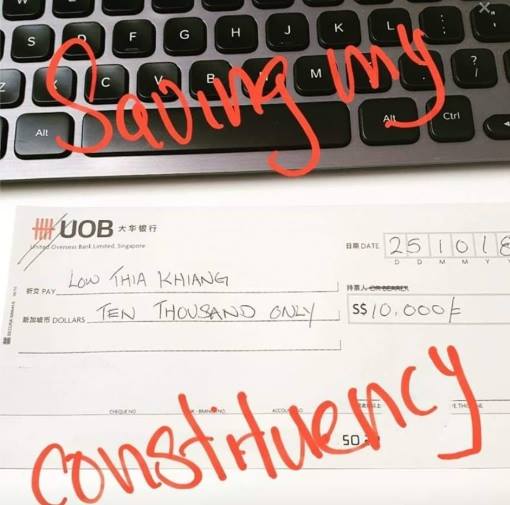 The WP parliamentarians who are embroiled in the ongoing Aljunied-Hougang Town Council (AHTC) trial appealed to the public for help with mounting legal costs on Wednesday and revealed in their blog that they have "depleted our personal resources," having already paid $600,000 from their own pockets to their legal team as the trial progresses.
Adding that they have not used any party funds, the trio asserted that they are committed to fighting vigorously against the unfounded claims that have been levelled against them:
"Since the suits commenced, the three of us have funded the legal expenses, using our personal savings and contributions from friends. We have not used any funds from the Workers' Party. The total we have paid to our own lawyers to date is close to $600,000, covering the work done before the trial. The costs incurred so far have depleted our personal resources.

"The claims against us are unfounded. We have acted in good faith, and did what we believed to be in the best interests of our residents and the Town Council.

"We will fight the claims vigorously. If we lose the suits and are adjudged to pay large sums of money, and are unable to pay, we would face bankruptcy… We now appeal to the public for financial support."
Shortly after the parliamentarians made their appeal for financial support, many gave to the town councillors and flooded social media with words of encouragement for the three political leaders. Within six hours of the appeal going live, the public donated $100,000 to the MPs. Within a day, 2832 donors gave the MPs $477,653.
Hundreds of Singaporeans also pledged to give their SG Bonus, that they are expecting from the Government by the end of this year, to the WP MPs even though they have use for the sum.
https://theindependent.sg.sg/hundreds-of-singaporeans-pledge-to-donate-their-sg-bonus-to-wp-mps-to-help-with-ahtc-trial-costs/
https://www.facebook.com/allsgstuff/photos/a.1993158977491488/2799235730217138/?type=3&permPage=1Follow us on Social Media
Send in your scoops to news@theindependent.sg