A recent Blackbox Research survey shows that nearly seven out of ten Singaporeans (68 per cent) feel that ministers should be "willing to make a sacrifice" and accept a lower salary than what they may earn in the private sector since their jobs are a "form of national service."
According to the survey that was conducted between 17 and 24 Aug and released last Friday, 36 per cent of respondents – or two in five Singaporeans – also disagreed with the reasoning that ministerial pay should be based on "the likelihood that they [ministers] would earn a high salary if they were working in the private sector".
The survey was conducted days after Emeritus Senior Minister Goh Chok Tong sparked a huge uproar over high ministerial salaries when he asserted at an event on 2 Aug that "ministers are not paid enough!" and that it is "very populist" to demand that ministerial pay be slashed.
The annual salary of an entry-level minister stands at S$1.1 million while the Prime Minister earns double that, S$2.2 million.
The former Prime Minister had added then:"And where do we get future office holders from? From the private sector? I tried for the last election. Two of them – one earning $5 million and one earning $10 million a month. To be minister for $1 million?
"So where do you want to get your ministers from? From people who earn only $500,000 a year? You're going to end up with very mediocre people who can't even earn a million dollars outside. Is it good for you or is it worse for us?"
The ensuing backlash that followed was so swift and so severe that ESM Goh responded to the heated debate on social media and clarified that salaries are not the starting point in minister recruitment and that he does not "mean nor believe that Singaporeans at whatever level of income are mediocre".
His clarification, however, failed to fully quell the frustrations of the majority of Singaporeans who have to contend with the ever-rising cost of living even as ministers earn million-dollar salaries and hefty bonuses.
One of the people who spoke up against ESM Goh then was the daughter of Singapore's founding Law Minister E.W. Barker – a pioneer minister who also served as Minister in the National Development, Home Affairs, Environment, Science and Technology and Labour ministries throughout his 25-year career in Parliament
Revealing that her father took a hefty 70-80 per cent pay cut from his career as a high-flying lawyer to serve the people when he entered politics, Ms Gillian Barker shared that she is "deeply offended" by the idea that lower pay will only result in mediocre leaders, like ESM Goh suggested, and asked what happened to the idea of public service.
Ms Barker's questions struck a chord with many Singaporeans and the Blackbox Research survey helps to capture the sentiment on the ground over high ministerial salaries.
According to the poll of 1,000 geographically-stratified Singaporeans, 70 per cent felt that it is wrong to consider those who earn higher salaries as better while almost half or 42 per cent of respondents felt that high salaries will not deter corruption.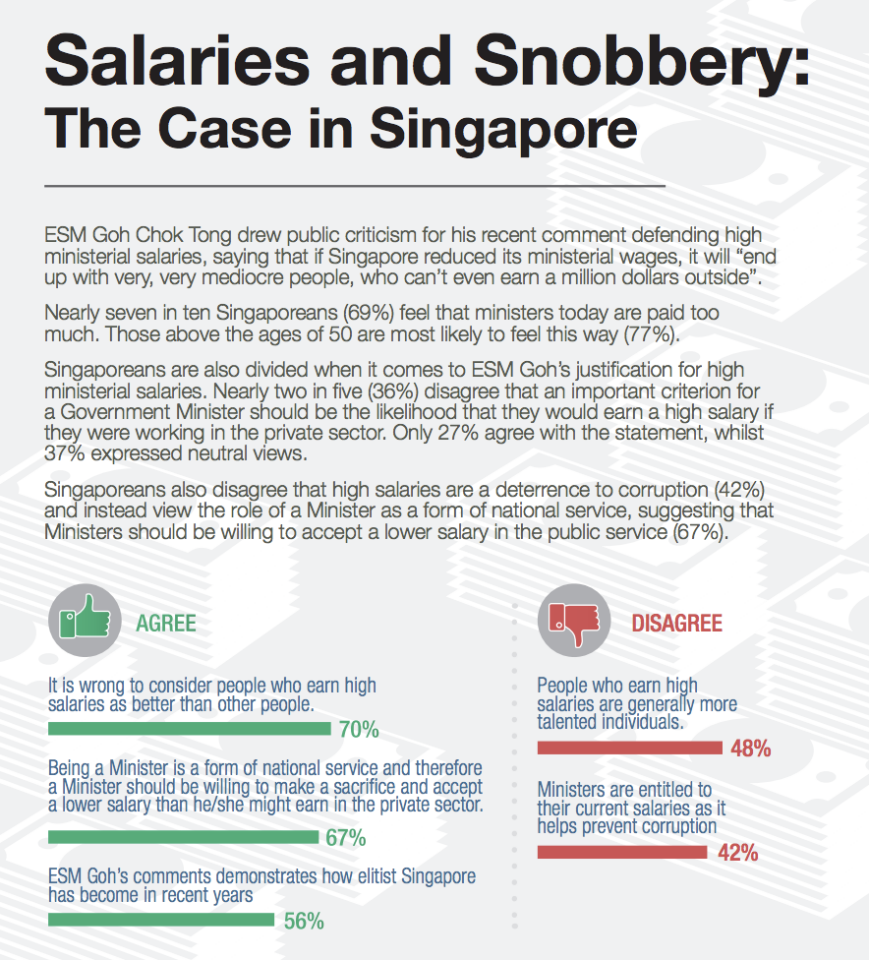 Read the results of Blackbox Research's survey in full here.
https://theindependent.sg.sg/daughter-of-singapores-very-first-law-minister-slams-esm-gohs-views-on-ministerial-pay-as-offensive-and-insulting-to-founding-fathers/Follow us on Social Media
Send in your scoops to news@theindependent.sg 
No tags for this post.