Some have deemed the order in which the new People's Action Party (PAP) Central Executive Committee (CEC) for 2019-2020 stood as the CEC election results were announced today to be a "dead giveaway" as to who will become Singapore's fourth head of Government.
While all three men tipped to be the frontrunners to succeed Prime Minister Lee Hsien Loong were elected into the PAP CEC, Chan Chun Sing's conspicuous position beside PM Lee has raised eyebrows and given rise to renewed speculation that he is the chosen one.
Along with Chan, who serves as Minister for Trade and Industry, Finance Minister Heng Swee Keat and Education Minister Ong Ye Kung were among those elected into the ruling party's highest decision-making body in the party. All three men have been deemed the frontrunners for the top position, although speculation that Chan will clinch the position has been especially resounding.
Earlier, Law and Home Affairs Minister K Shanmugam came out to say that Singaporeans will get clearer idea of who the fourth prime minister will be during the CEC elections. In the following days, the press interviewed analysts and political pundits who reiterated that Singaporeans can deduce who the next PM will be based on the CEC election results.
Although the exact positions that each newly elected CEC member will hold within the committee is yet to be revealed, the line-up in which the new PAP CEC stood at the PAP Awards and Convention 2018 today may be the key to finding out who will be – or has been – chosen to lead Singapore after PM Lee.
While Chan Chun Sing stands to the exact left of PM Lee, Ong Ye Kung stands four spots down from PM Lee's right while Heng Swee Keat stands three spots down from PM Lee's left.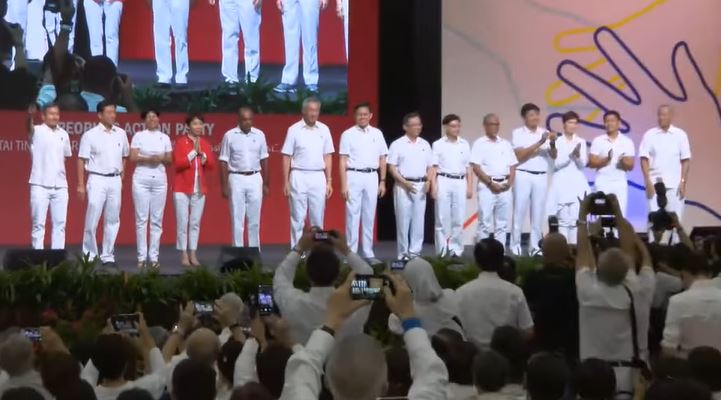 Besides PM Lee, Chan Chun Sing, Ong Ye Kung and Heng Swee Keat, the remaining 8 members elected into the CEC are:
Law and Home Affairs Minister K Shanmugam; Health Minister Gan Kim Yong; Culture, Community and Youth Minister Grace Fu; Environment and Water Resources Minister Masagos Zulkifli; Foreign Affairs Minister Vivian Balakrishnan; Minister in the Prime Minister's Office Ng Chee Meng; Minister in the Prime Minister's Office Indranee Rajah; and Speaker of Parliament Tan Chuan-Jin.
Defence Minister Ng Eng Hen and Manpower Minister Josephine Teo were co-opted into the CEC and became the CEC's 13th and 14th members.
Send in your scoops to news@theindependent.sg