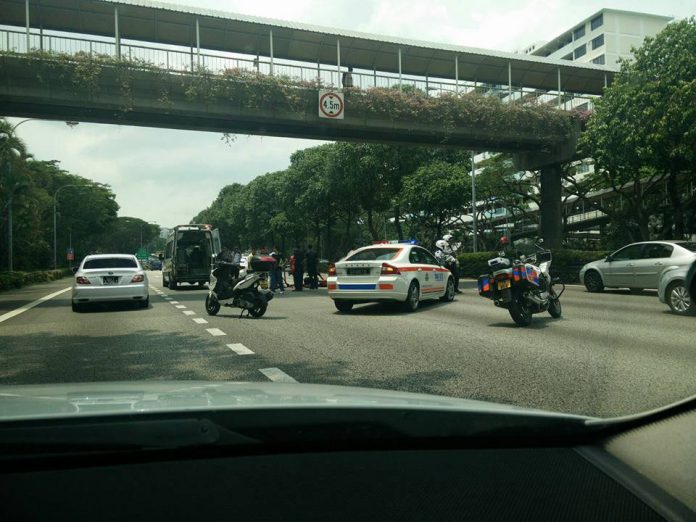 Update: Police have confirmed that they received a call on 22 April 2016 at about 12.40pm requesting for assistance along the PIE towards Changi near the Eunos exit.
Police said: "Upon arrival, it was established that a case of attempted suicide had occurred at the said location. The 37-year-old woman was conveyed conscious to Changi General Hospital. Police investigations are ongoing,"
The Singapore Civil Defence Force (SCDF) has also responded to media queries on the incident and said: "The SCDF dispatched an ambulance and conveyed a Chinese woman in her 30s to Changi General Hospital. She sustained multiple injuries and the hospital was alerted to be on standby to receive the patient."
—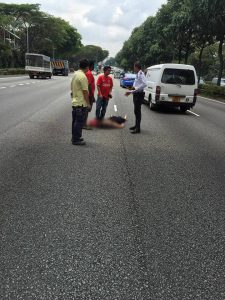 Road.sg reported in their Facebook that a woman jumped off from an overhead bridge along PIE towards Changi. The pedestrian crossing is located is between Paya Lebar and Eunos exit, the admin of the Facebook group said.
Some Facebook users have claimed that the incident has caused massive jam on the expressway.
Road.sg posted two conflicting status updates on their Facebook. One said that the woman "was injured and taken to hospital."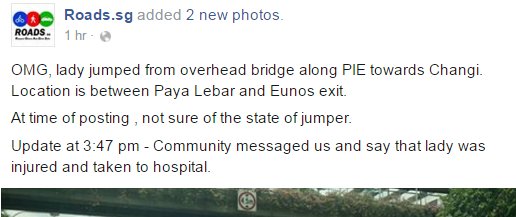 While the other said that the woman had died.