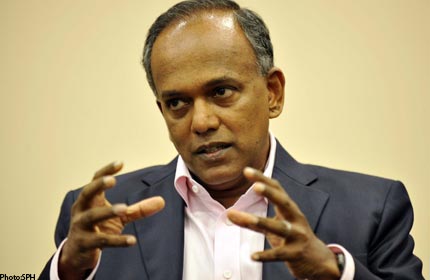 Law and Home Affairs Minister K Shanmugam delivered a hard-hitting Speech at the SRP Distinguished Lecture and Symposium organised by the S. Rajaratnam School of International Studies, on Tuesday which touched on terrorism as well as Muslims here in Singapore.
But did the Minister single out Muslims specifically in his Speech?
No, believes an academic Mohamed Imran Mohamed Taib. In a note he said:
"Minister Shanmugam's speech on the threat of terrorism in the region and in Singapore in particular, was undoubtedly hard-hitting. If we were to listen to his entire speech, he was not, in fact, singling out the Muslims but was careful enough to highlight that extremism within the Muslim community is a contained and particular phenomenon apart from the general population. But his focus on Muslim extremism is unavoidable given the present socio-political climate and developments.
Muslims need not be defensive about it. It was not, in my opinion, an attempt to once again put the Muslims in the spotlight for being a "problem" for Singapore. In fact, the Minister highlighted the potential problem of Islamophobia taking root should Muslim extremism and terrorism not be tackled with all seriousness. Hence, Muslims need not react negatively to the Minister's speech, but adopt greater self-introspection in order to be called upon to deal with extremism in our own midst."
While the academic feels that the Minister's Speech was not an attempt to put Muslims here in the spotlight, a blogger, Zayed Talib feels otherwise.
The Minister had in his Speech said, "we have picked up among sections of our younger Muslim population, sentiments against wishing Christians "Merry Christmas" or wishing Hindus "Happy Deepavali". Some groups preach that it is wrong for Muslims to recite the National Pledge, or sing the National Anthem, or serve National Service, as doing so would contradict the Muslim faith."
The blogger picks on this quote and said:
"I am supposing that the Minister Shanmugam has access to data that we are not exposed to but once again the writer (of the newspaper article) has chosen not to furnish or pursue such details. This communicates that whatever the Minister said is true – something we as Muslims in Singapore recognise to be wrong. So I issue this challenge to both the Minister Shanmugam and Siau Ming En (the writer of the newspaper article) to furnish the data behind how much exactly of this rising tendency exists and what part of the Muslim population truly are at comfort with living together with peoples of other faiths."
The blogger also disagrees with the Minister's comment that, "our Muslim population growing somewhat distant from the rest of our society".
Zaid shared a news report which is titled, "Muslim family invites Muslim, non-Muslim neighbours to break fast along HDB flat corridor", and said:
"As a Muslim, I see far more Muslims sending greetings to friends to other faiths than not. In fact – the majority of Muslims here laugh at those who insist on not sending greetings because of a misplaced ideal of religiosity. It is ridiculous because it isn't who we are as a people. In fact we welcome the opportunity to engage with our non-Muslim neighbours as evident in the picture below."