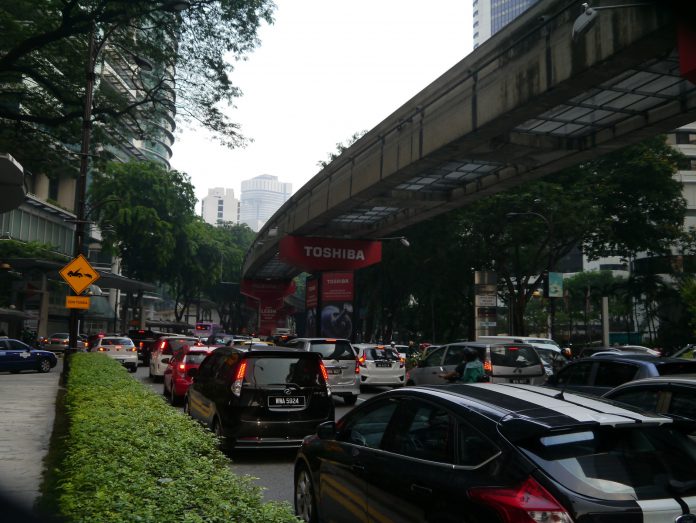 With RM900 million allocated under Budget 2016 to tackle the notorious traffic jams in Kuala Lumpur, connectivity and TODs are the buzzwords in the property market from KL all the way to Selangor.
By Khalil Adis
There is this saying among my friends in Kuala Lumpur that "it is better to drive than to take public transportation in KL".
While this was true back in early 2000 when the different train lines in KL lacks seamless integration, the situation is a lot better now thanks to effort by Syarikat Prasarana Negara Berhad with upgrading works and better connectivity between the different train lines.
For example, you can now walk through Nu Sentral shopping centre from KL Sentral to change to the KL Sentral monorail station.
In the past, you had to walk under the hot sun, passing through Brickfields before arriving at the monorail station.
While traffic jams remain a serious problem in the Klang Valley area, both the federal government and Kuala Lumpur City Hall (DBKL) had stepped up effort to further mitigate the situation.
As a result, only developers who have had experience in building transit oriented developments (TODs) or who had studied the Singapore or Hong Kong model will be given Development Order (DO) approval. In addition, the government is possibly looking to implement the Electronic Road Pricing (ERP) scheme, similar to the Singapore system. Here, we list our top 10 TOD projects to watch out for in 2016 in the Malaysian property market this year (in no particular order).
Latitud8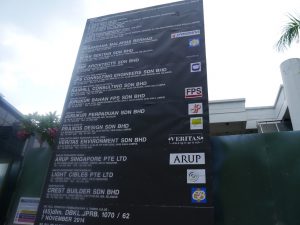 The very first TOD is being spearheaded by the government and is located just above Dang Wangi LRT station. Called Latitud8, the mixed-use development is a joint project between Prasarana and Crest Builder Holdings Berhad.
Comprising a lifestyle retail podium with business and convention facilities, open office spaces, SOFO (small office flexible office) suites, SOHO (small office home office) residences and duplexes as well as a rooftop lounge and bar, this development will have a gross development value (GDV) of RM1.10 billion. Latitud8 is scheduled to be launched in the second half of 2016 with targeted completion by the end of 2019.
This marks a new trend whereby the government is leading the way to create a new way of city living by creating vibrant and liveable communities that are centred on public transport. With the trend towards TODs, Malaysians can now look forward to a stress free living without having to navigate congested roads and highways.
Developer: Latitud8 is a joint land development between Crest Builder Holdings Berhad 51 per cent owned subsidiary Intan Sekitar Sdn Bhd and Prasarana Malaysia Berhad.
Gross development value: RM1.10 billion
Tenure: No indication from the media release whether this will be a freehold or leasehold development.
Asking price: Price on asking. Latitud8 is scheduled to be launched in the second half of 2016.
Served by: Dang Wangi LRT station
The good: This project is located just above Dang Wangi LRT station and is being spearheaded by the government as the first TOD in Malaysia.
The bad: Commuters still need to walk to Bukit Nanas monorail station which is located some 500 metres away.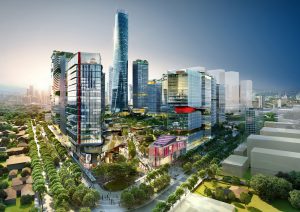 Malaysia's dedicated financial district, the Tun Razak Exchange (TRX), with a gross development value of RM40 billion and with a total gross floor area of 20 million square feet, is currently being developed along Jalan Tun Razak as a natural extension of KL's "Golden Triangle". A dedicated MRT station, the Tun Razak MRT station, will be built underground as part of the Klang Valley MRT (KVMRT) project.
Developer: 1MDB with Lend Lease as the anchor investor partner
Gross Development Value: RM40 billion
Tenure: Freehold
Asking price: The project has not yet been launched.
Served by: Tun Razak Exchange MRT station
The good: This will be Malaysia's first dedicated financial district much like Raffles Place/Shenton Way in Singapore. The masterplan is impressive with a mix of residential, commercial and office precincts.
The bad: The negative stories associated with 1MDB have had a negative impact on buying sentiments among foreign investors when investing in Malaysia. In December 2015, as part of its debt rationalisation plan, 1MDB inked an agreement deal with a consortium comprising Iskandar Waterfront Berhad and China Railway Engineering Corporation to sell 60 per cent of its stake in Bandar Malaysia Sdn Bhd. Although the 1MDB logo is no longer displayed on the hoardings, the scandals surrounding 1MDB continue to hurt its image overseas as investigations are currently occurring in Singapore, Hong Kong, Switzerland and the United States.
TREC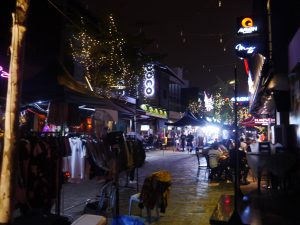 Home to Malaysia's first dedicated entertainment enclave, TREC is home to Zouk KL and various bars, clubs and restaurants. Located just adjacent to Tun Razak Exchange, there are plans to integrate TREC to the Tun Razak MRT station, depending on who will be footing the bill. This will mean direct access for workers in TRX as well as residents there.
Developer: TREC is a joint-venture project between Cher Ng and Dato' Douglas Cheng Heng Lee, founders of TREC. Cher works with Dato Douglas Cheng and Berjaya Assets. He spearheads the consortium presiding over TREC's development.
Gross Development Venue: RM323.6 million
Tenure: Leasehold
Asking price: Units are only available for lease only. There are currently units being offered for lease at phase 2 comprising The Alcove, The Hive and The Terraces with a total of 42 units. For more information, email: lease@trec.com.my
Served by: Tun Razak Exchange MRT station
The good: TREC is being spearheaded by Singapore's very own Cher Ng who now calls KL home. Responsible for bringing in notable DJs like Timo Maas in Singapore, Cher has also brought Singapore's Zouk brand in KL – Zouk KL. With TREC, Ng has revolutionised Kuala Lumpur's entertainment industry with a dedicated entertainment enclave with Zouk KL as the main visible landmark. Kuala Lumpur previously had no dedicated entertainment enclave. There are also ample car parking spaces. This is the place to see and be seen.
The bad: You currently need to drive, take a taxi or Uber over to get to TREC. However, the good people at TREC is going all out to welcome you here- there's free Uber rides from 5pm to 10pm daily, to and fro. Each ride is worth RM15. Use code TRECHH for your complimentary Uber ride!
KL118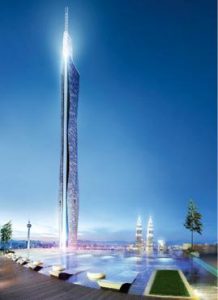 Formerly known as Warisan Merdeka, KL118 will house a shopping centre, office building and hotel. It is currently being developed just next to Stadium Merdeka. When completed in 2020, it will surpass Petronas Twin Towers as the tallest building in Malaysia. It will have access to the KVMRT Sungei Buloh-Kajang line. The 118-storey KL118 project will have a gross development value (GDV) of RM6 billion.
Developer: Permodalan Nasional Bhd.
Gross Development Venue: More than RM6 billion over five years
Tenure: Leasehold
Asking price: Around RM1,480 per sq ft for the SOFO units (leasehold). Opus @ KL opposite KL118 is a freehold development priced at around RM1,500 to RM1, 600 per sq ft.
Served by: Merdeka MRT station
The good: There is a condominium project called Opus @ KL located just opposite KL118. When completed, this will set a new benchmark price just like how KLCC was when it was first developed in the 1990s. With the new KL118 tower, everyone will want to boast to having the KL118 view. This will enhance the desirability of the area. Developer for Opus @KL has mentioned in news reports it is planning to connect it directly to Merdeka MRT station.
The bad: Bad traffic congestions during peak hours right now. You have to wait till 2016/2017 for the MRT station to be completed.
Bandar Malaysia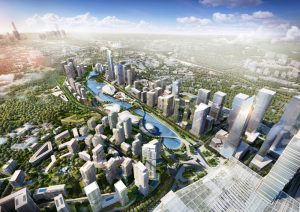 The Sungei Besi military camp will be developed into an iconic mixed-use development called Bandar Malaysia with a GDV of RM150 billion, housing the HSR station and two MRT stations being built here: Bandar Malaysia North and Bandar Malaysia South. The latter will be the interchange station connecting the MRT Circle Line to the HSR Line. The site area is around 196 hectares and will comprise 27,000 quality and affordable homes. There will also be a dedicated commercial district to support new start-ups as well as small and medium-sized enterprises (SMEs).
Developer: 1MDB
Gross Development Venue: RM160 billion
Tenure: 1MDB acquired the freehold land. There is no indication yet if the project will be freehold or leasehold.
Asking price: The project has yet to be launched.
Served by: Two MRT stations from the upcoming Sungei Buloh-Serdang Putrajaya Line – Bandar Malaysia North and Bandar Malaysia South.
The good: If implemented according to its masterplan, Bandar Malaysia could rival KL Sentral as this transportation hub is not as integrated as you still need to walk through Nu Sentral to take the KL monorail. A big plus are the affordable homes supported by the commercial precincts.
The bad: The High Speed Rail project has been hit by delays, first by 2020 then by 2022 and according to rumours in the market, possibly in 2029.
KL Metropolis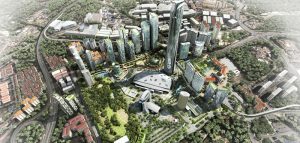 An ambitious mixed-use development called KL Metropolis is currently being built along Jalan Duta that will house the Malaysia International Trade and Exhibition Centre (Mitec). With a GDV of RM15 billion, it will be served by the upcoming KVMRT line. KL Metropolis will comprise a shopping centre, luxurious condominium projects, art complexes, museums, exhibition spaces and a health and wellness precinct.
Developer: Naza TTDI
Gross development value: RM15 billion
Tenure: Leasehold
Asking price: Price on asking for phase one of its residences
Served by: No stations have been named yet but Naza TTDI has said on their website that it will be connected to a future MRT and LRT stations.
The good: KL Metropolis is built by a reputable developer who has a strong track record. The location is also a big plus as it is located near to several good neighbourhoods like Sri Hartamas, Mont Kiara and Kenny Hills.
The bad: Some KLites have complained that the project is a leasehold project. In Malaysia, where everyone had gotten used to the freehold concept, a leasehold development is something Malaysians will need to get used to as prized land is getting scarce in the Klang Valley area.
Subang Jaya City Centre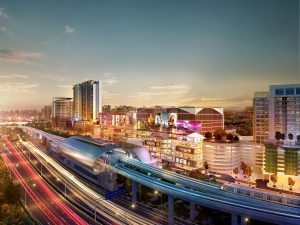 Even before TODs became the buzzwords for 2016, Sime Darby have been forward thinking by incorporating sustainable urban development that is integrated with train stations and therefore helping to increase ridership.
This mixed-use development project will comprise premium SOHOs, serviced residences, a retail mall and office towers which will definitely appeal to the discerning tastes of Gen Ys.
On top of that, it will be located next to the future Subang Jaya KTM Komuter and LRT station. This is part of Prasana's Kelana Jaya Line Extension which will begin from Kelana Jaya with 13 new stations. They include Ara Damansara, Subang Jaya and USJ before ending at Putra Heights Integrated Station. The new Subang Jaya LRT station will incorporate a Park 'n' Ride facility to encourage Malaysians to park their cars and take the train to the city.
Developer: Sime Darby Property Bhd
Gross development value: RM3.96 billion
Tenure: Freehold
Asking price: The residences for The Suave as well as shops, offices and retail spaces near the LRT station have yet to be launched
Served by: Subang Jaya KTM and LRT station
The good: Sime Darby is a reputable developer and Subang Jaya is a growing township. The LRT station is scheduled for completion in the second quarter of 2016. Being an outlying area and with the train station still being built, properties here will give you plenty of room for capital appreciation.
The bad: The KTM to Subang Jaya takes forever to arrive from KL Sentral. Once the LRT station is completed, it will greatly enhance commuters' experience.
DC Residency Kuala Lumpur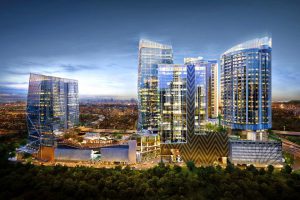 Developed by GuocoLand, this mixed-use development located in the affluent enclave of Damansara Heights will comprise a mall, two office towers, a hotel and two residential buildings. Land is very scarce in Damansara Heights as majority of the homes here are bungalows. As such, if you want to live close to where all the elites call home, this is the best option going forward. Response has been overwhelming with registration now closed. You might want to call up the developer directly for new launches.
Developer: GuocoLand
Gross development value: RM2.5 billion
Tenure: Freehold
Asking price: RM1,600 per sq ft
Served by: Pusat Bandar Damansara MRT station
The good: GuocoLand has experience developing TODs. In Singapore, it is currently developing a mixed-use development called Tanjong Pagar Centre with 181 units of luxury homes – the tallest in the Lion City. The project is located just directly above Tanjong Pagar MRT station. Also, Damansara Heights is the original Damansara with a very affluent neighbourhood. GuocoLand has said it will connect this development to Pusat Damansara MRT station
The bad: You have to wait till the MRT station is completed in 2016/2017.
Kwasa Damansara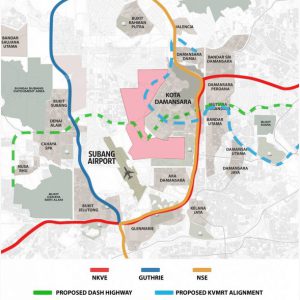 Kwasa Damansara MRT station will be integrated with a mixed-use development to be built by master developer Kwasa Land Sdn Bhd. Comprising 2, 330 acre, Kwasa Damansara is expected to serve a target catchment population of 150, 000 with a mix of residential, commercial, recreational, institutional and educational precincts. Affordable homes are in the pipeline with 30 per cent to be set aside for residential developments while the remaining 70 per cent will be commercial.
The total gross development value of the township is estimated at RM50 billion over the next 18 years. In addition, the surrounding townships of Kota Damansara and Petaling Jaya will also benefit from the MRT stations. Kota Damansara is a huge and mature suburb served by four major expressways – NKVE, Guthrie, NSE and ELITE. The current per sq ft price here is around RM400 per sq ft.
Developer: Kwasa Land
Gross development value: RM50 billion
Tenure: Freehold
Asking price: This project has yet to be launched
Served by: Kwasa Damansara and Kwasa Sentral MRT stations
The good: This a new township, built from scratch so units will remain affordable.
The bad: Just like Medini, it may take sometime for the population to hit a critical mass here.
D'Sara Sentral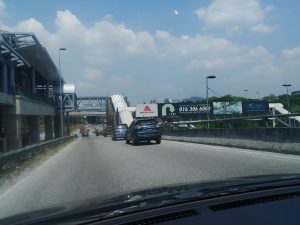 D'Sara Sentral is an integrated mixed-use development by Mah Sing Group which comprises four blocks of serviced apartrments and one block of Small Office Versatile Offices (SOVOs). Although not technically a TOD as it is located adjacent to the Kampung Selamat MRT station, there are plans to integrate it with the station via a covered linkway. As such, residents will no longer have to wake up early and deal with the daily traffic jams to and fro Klang Valley.
Developer: Mah Sing Group
Gross development value: RM800 million
Tenure: Leasehold
Asking price: Around RM700 per sq ft
Served by: Kampung Selamat MRT station
The good: Unlike existing train stations which were the result of bad planning and design but which were subsequently improved upon, the MRT project has been thought through to enhance commuters experience. As such, Mah Sing Group is working closely with the government to integrate it with their development resulting in a direct linkway to D'Sara. The fact that the developer is listed with a proven track record is a plus point. Prices for homes here are relatively affordable at RM700 per sq ft.
The bad: D'Sara Sentral is located just across the street and not above or next to the MRT station so commuters will still need to walk via the linkway.
Updated on 14 May 2016. This article was first published on www.khaliladis.com