"Growing up, I really hated my name because it is an Indian name, but I'm 100% Chinese."
This is what actress and singer Caitanya Tan said in a video released by Millennials of Singapore yesterday. The performer, who is perhaps most well known locally for her role as Cpt Goh on Channel 5's Tanglin, was flamed for her comments, which many took to be "counter-racist."
Caitanya was born to musician Kenny Tan who gave all three of his children Indian names: Caitanya, Krsna and Govin.
In an interview to Millennials, Caitanya (pronounced Chey-Tan-Ya) described how difficult it was for her to explain her name to her primary school peers and how she began to hate her name because her peers bullied her for her different name.
A Chinese Growing Up With An Indian Name

"Growing up, I really hated my name because it is an Indian name, but I'm 100% Chinese. My name is Caitanya, and Chinese kids won't get it. I'll tell them that my dad gave me an Indian name, and then all the questions would come.. "But you're Chinese right?", "You take Chinese class right?" or "You don't look Indian, are you Chindian?"I never really know how to answer these questions because you're seven, you're in a new school, people are getting to know you, but you don't even know so much about yourself yet. And you have a strange name that doesn't match your face."https://millennialsofsg.com

Posted by Millennials of Singapore on Tuesday, 11 July 2017
Sharing that she once had a friend who stopped being her friend because of her Indian name, Caitanya said:
"Growing up with a name like this has helped me understand a little bit better what it feels like to be a minority."
After adding that that does not mean that she completely understands what racial minority groups face, Caitanya shared that years later, someone pronounced her name as Kate-Anya.
She decided to adopt that pronunciation of her name as it had a more international feel to it.
"Don't fight the old, build the new," she said.
Her comments have drawn intense flak from netizens: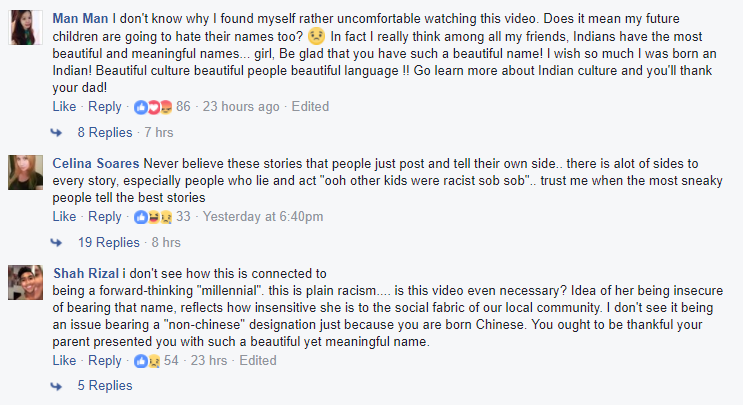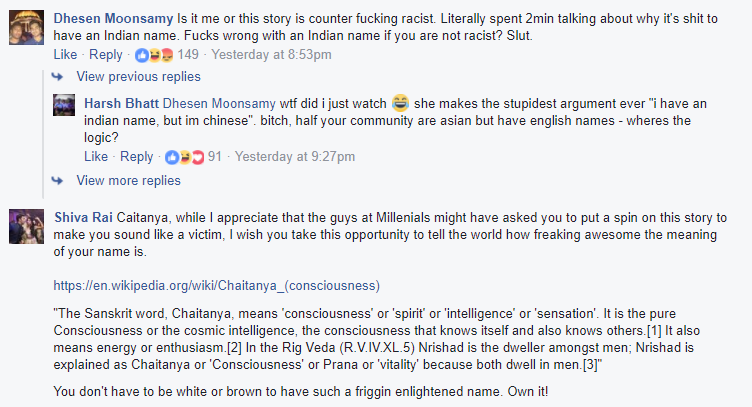 One Facebook user's comment attracted the attention of Caitanya's brother Krsna who responded, telling the user to "check" herself: