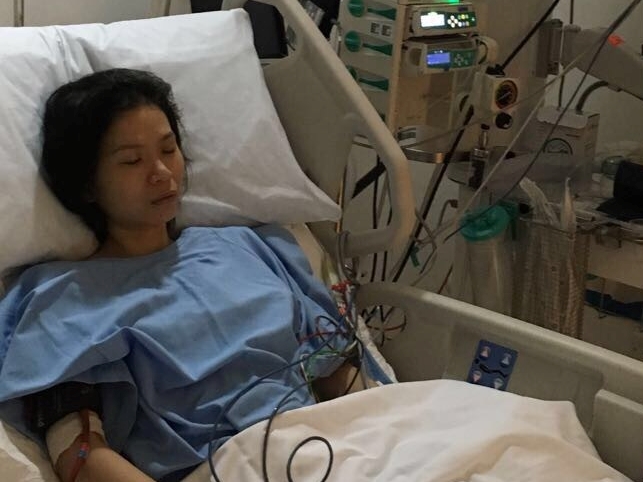 A Singaporean woman, Donna Lim, who was diagnosed with Stage 4 neuroendocrine tumours – a cancer of the endocrine and nervous systems of the body – after years of doctors just prescribing painkillers to treat a persistent back pain she complained of, is now running out of funds to continue her treatment.
The 37-year-old, who cares for her aging parents, has already spent about $750,000 on her medical bills. While insurance was able to cover some of the cost, the financial burden has depleted her savings – especially since her condition makes her unable to work.
Lim is now appealing for $350,000 that she needs to pay to cover the cost of her last hospital stay. She will also need to undergo another major surgery. Even if that surgery is successful, she will still need to fork out $5000 per month for a necessary injection.
Read her heart-wrenching story here:
I am Donna Lim, 37 years old at the point of writing. I have complained of back pain for several years and GPs have been routinely giving me painkillers before one suddenly realized it might help by sending me to a specialist for a detailed check-up. The scans later showed that I have neuroendocrine tumor cancer stage 4. The news was broken to me on 19 April 2016. My world collapsed. I started making after life plans, though I am single but I have a pair of old aged parents to support. What is going to happen to them? I started to worry. 

Later after countless tests and scans, I was injected with nuclear medicine in a desperate move to shrink the tumor that was growing in me, it had by then hinged to 50% of my liver.  I had a major operation to remove 80% of my liver, part of my small intestines and gallbladder on 19 Dec 2106. Apart from the big monster, I had numerous small growing ones. 

After the major surgery last year which cost almost Sgd300,000, I was told the cancerous tumor in me had been successfully removed but a new regrowth again in my liver. I was discharged for home rest after warded in and out of hospital many times for biles complications. Guess what, I started to develop fever almost everyday. Barely two weeks, I was admitted again. Diagnosis revealed that the nuclear medicine had eroded my lungs and damaged my bile duct. I had 50% of my lungs cut off and heavens did not let me off lightly. I continued to have infections and have 4 tubes attached to my body to drain the abscess in my body. Two days ago, the surgeon told me to undergo the thoracic window procedure immediately or I will lose my fight. For people who are unaware of this procedure, this is a surgical procedure to remove part of the ribs and cut open a 4x4cm hole in the body. This is a World War II procedure to treat pneumonia. 

To-date, I have spent around SGD 750,000 on my medical bills which my insurance coverage has exploded. The last stay (12 May to 26 July) had cost me $346,601.60 alone. Even I was partially covered by insurance, my savings are almost wiped out from my liabilities as I've not been able to work since diagnosed 19 Apr 2016. As I am typing this, the estimated bill is SGD 100,000 (doctor cost only). Sometimes I wish I am better off dead then to face this mountain full of bills beside suffering from.all the pain everyday.

Even if this is the last major op (fingers crossed) doc told me its murphy's law for me. Whatever can happen, will happen, i have to embark on $5000 per month injection for the rest of my life which I do not know how long I'll live till then. Will I have enough for all these treatments? 

I appeal for help. I may be an entire stranger to you but I will appreciate any monetary amount. Every dollar and cent is important to me now. 

I thank you all in advance. God bless!
To give, please visit give.asia/story/help_donna_-running_out_of_funds_to_continue_treatment.