A photo shared of an old man rummaging through a pile of rubbish in order to look for scrap materials to sell has gone viral. The man can be seen to be rather frail-looking and thin and the photo has garnered many comments about the rich-poor divide in Singapore.
The photo, shared on Facebook page All Singapore Stuff has garnered almost 80 shares and 150 reactions, with most of the comments being from angry Singaporeans.
The photo was captioned by netizen Fahmy, who said, "Whilst waiting for the bus the other day, I took this picture of an old man rummaging through the rubbish for tin cans and other recycle items to be sold to scrap dealers. Being poor in Singapore is a very real thing!"
Netizens also took to Facebook to share a photo of a cardboard collector trudging alone, as Prime Minister Lee Hsien Loong 'looked on' in the form of an election poster. Many used this as an example for the inaction towards the poor, and how hard they still have to work despite being aged.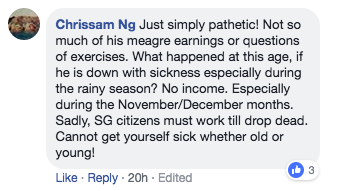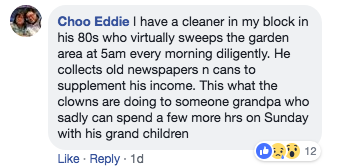 ________________________________________________________________________
obbana@theindependent.sg