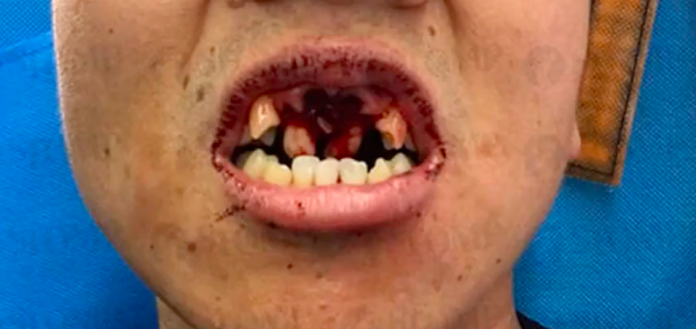 In the latest development in the story of how "Henry", a passenger, angered "HD" a Grab driver, which resulted in HD punching Henry in the teeth—the passenger is now claiming that his dentist said that the dental surgery and implants he needs to repair the damage done to his teeth may cost him as much as $30,000.
It all started with an altercation on May 12, when Grab driver HD, who drives an Audi, was booked by Henry for a ride from Block 727 Yishun Street 71 to Choa Chu Kang. When HD went to pick Henry up, he found that Henry was accompanied by his wife and two children, one of whom was only five years old. 
Since HD did not have a booster seat required by the law for young children, he asked Henry to cancel the booking and get a GrabFamily ride with the correct safety seats instead. 
In the end, Henry did not cancel the booking, and forcing HD to do so would have made HD lose his incentives. Furthermore, Henry reportedly mocked HD and slammed his car door. 
A fight ensued between the two men, which led to HD damaging Henry's teeth.
Both men have taken to social media with their sides of the story. 
Henry has called the police, and there is now an ongoing investigation of the incident. 
He also told The Straits Times that his dentist has said that fixing his damaged teeth may end up costing him as much as to $30,000. 
According to Henry, his sons are still deeply troubled by the fight with HD, and that he is still suffering from its effects. 
"I can't talk or eat well, and the pain has given me a lot of discomfort."  He has contacted Grab to ask them to shoulder the amount needed for his metal implants. 
A spokesman from Grab has said, "The safety of our customers – drivers and passengers alike – is our absolute priority, and we do not tolerate such behaviour. The police investigation is ongoing and we will be fully cooperating."
While many netizens have been sympathetic towards HD, however they have said he should have not lost his temper and struck Henry in the way he did.