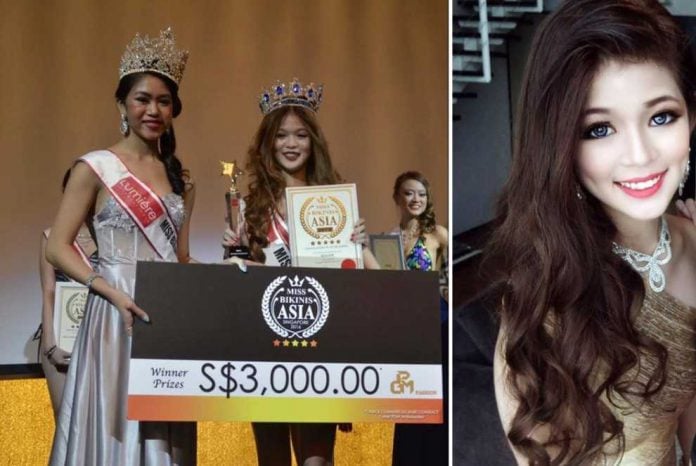 The public dispute between local beauty pageant regular Melissa Chua and pageant organiser Lumiere International has been escalating. Chua, popularly known as Melissa Wix, was stripped of her titles as Miss Bikinis Asia Singapore 2016 Winner and Miss Singapore Cosmopolitan World 2016 on Tuesday after she called the pageant organiser out on social media as a "scam" company that allegedly sells titles.
The issue began when Chua, who runs her own gown rental and retail shop called The Gown Club, called Lumiere a "shameless" company in a Facebook post on 29 December last year, and claimed that Lumiere is copying her gown ideas, her company's social media posts and even stole her company's images without permission to use as their own pictures.
Chua, who has participated and won pageants organised by Lumiere, further alleged that the people behind the company, Justina Tan Quek Sb and Huilin Tan, run "bogus beauty pageants" and allegedly make a lot of money doing so as there are lots of hidden costs associated with joining a pageant by the company.
Posting screenshots of images that Lumiere has copied from her, Chua said: "They have no shame in whatever they do. Which is only know how to copy other people's businesses. I am not the only one they have tried to copy."
Lumiere responded last Thursday and stripped Chua of her titles for "breach of contract". The company claimed in a subsequent press release yesterday that it has "dethroned" Chua because of her "misconduct". Going for what appeared to be a low blow, the company added that it had "dethroned" Chua because "It has come to our attention that Melissa Wix have several Obscene and Naked Photos on the Internet".
Chua responded in a Facebook post that she will be making a police report against Lumiere and that she will be taking legal action against the company. Revealing that the company has yet to pay her $2,500 out of the $3,000 cash prize she won by clinching the Miss Bikini pageant, Chua also claimed that Lumiere even tried to strip her of another title from a pageant that was not even organised by themselves.
Chua also called out one of the organisers as being a "sick person" and shared screenshots showing the organiser targeting another pageant organiser, Christine Huang, when Huang's husband was diagnosed with kidney cancer.
In the fiery back and forth, Lumiere responded that part of Chua's cash prize was forfeited since she did not meet certain terms and conditions.
Lumiere released a new press statement on their Facebook page today and have claimed that Chua has sent them an alleged death threat by Christine Huang. The owners of Lumiere added that they believe Chua is working with Huang to topple their company so that they can start their own pageant organising company.
The owners of Lumiere revealed that they have reported the matter to the police and that the police are allegedly investigating both Chua and Huang. The Lumiere press release also revealed that Lumiere's management may take legal action against Chua and Huang:
"It has come to our attention that on 14 February 2018, 9.32am, we received a message from Melissa Wix with regards to her death threat mentioning "From Christine Huang: Tell her Thank you for her curse, my husband is recovered, now I have more time to finish her". We believe that Melissa Wix has conspired with Christine Huang hence, she had the intentions for all these false allegations only to be able to set up her own pageantry company in Singapore and work with Christine Huang.

"Christine Huang is the owner and CEO of Golden International (Taiwan) and is planning to head to Singapore in July 2018 to set up a pageantry in Singapore, hence we believe that they have the ill intentions together with Melissa Wix in collaboration just to harm our company reputation name. Christine Huang is only currently facing other controversy cases in many parts of the world for infringing their international pageantry names such as [ Miss Teen International, Miss Progress International, Miss Earth and Mister Globe]. The owners of these pageantry have all gathered evidence against her ill intentions.

"We do not take such death threats likely and have filed a police report followed by a magistrate court order on her potential death threat to harm our chairman and committee members. The police are currently in investigation towards Christine Huang and Melissa Wix for their intentions to harm our company. Our company would also reserve the rights to take legal actions on the both of them."
Lumiere further asserted that they did not use Chua's photos, as she had alleged in an earlier accusation. The company's management claimed that the photos in question are photos that they own and that they will take legal action against Chua if she does not remove their photos from her Carousell account, since she is apparently not allowed to share those photos on commercial platforms:
"It had also come to our intention that Melissa Wix has expressed her displeased of us "Using her photos". Do note that the photos mentioned were photos of our pageantry ladies from Miss Lumiere International World and Mrs Worldwide Singapore 2017. The photo rights are all belonged to our company and of no part her photos. This had been clarified by the photographer himself, Mr Peter Lee. Melissa Wix was only the sponsor of the gown and of which, our company had in return gave her company "The Gown Club" the publicity by giving credits to her on the photos and the captions as well as giving her an official certificate.

"It has come to our company attention that she has misused these photos for commercial purposes on a platform named "Carousell" and would hereby give a notification that she is in no part allowed to use the photographs for her own commercial purposes. We would further request for her company to remove all said photos from all types of platforms before we seek legal means on our intellectual property rights."
Chua has yet to respond.
Beauty queen is stripped of titles after she calls "scam" pageant company out on social media