A stall-holder at the NTUC Foodfare located at Changi Airport's Terminal 4 was slapped with a hefty fine of S$3500 because her elderly father –the one running the stall – was injured, and being unable to find staff to replace him, had to close down the stall for a few days.
The stall-operator, an elderly man was injured in June 2018. His daughter, who wrote in to TISG said, "We have constantly been facing staffing issues as we were not allowed to hire foreigners and less Singaporean and PR are willing to take up a job in a food stall"
She added that because of being unable to find sufficient manpower to run the stall, her "father had to work 2 shifts a day in order not to get a penalty from NTUC Foodfare. However, as his injury was too serious this time, [they] had to close the stall for a week".
The daughter, who wished to remain anonymous said that her father was on medical leave for 60 days. He ran the place as the head chef, and because they could not find a replacement in time, they had no choice but to close.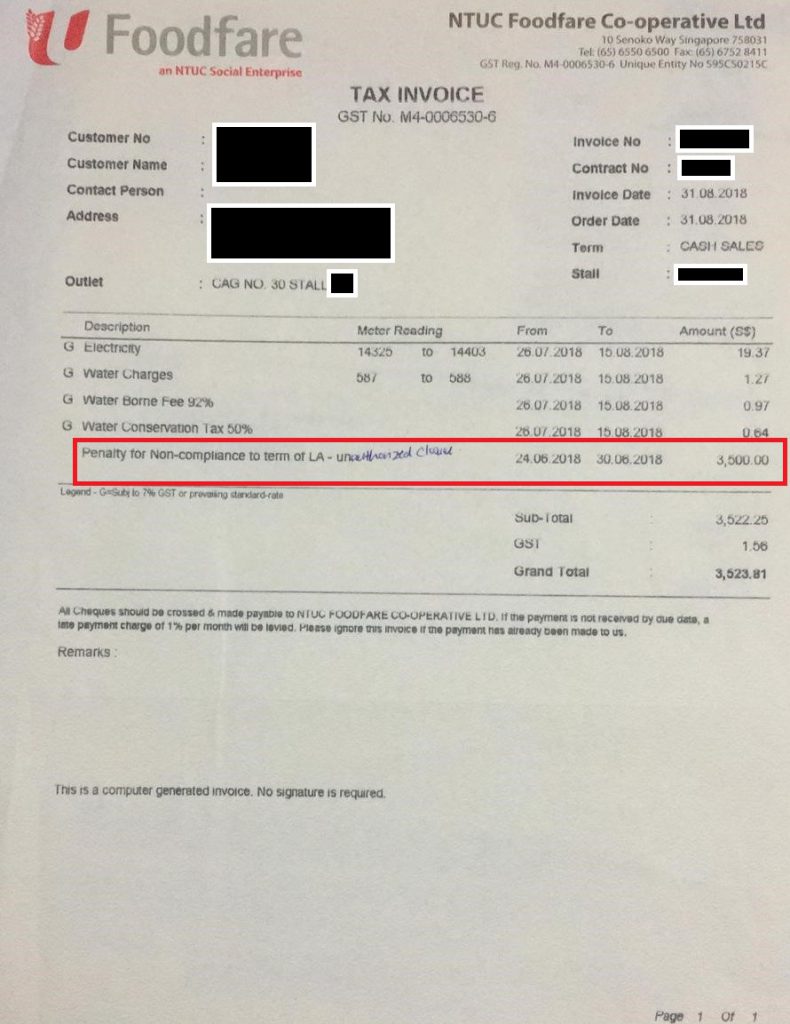 The man's daughter also wrote in to NTUC Foodfare to seek their understanding on their situation. However, their reasons for closing the stall were rejected and they were given a $3500 fine for non-compliance to NTUC Foodfare's regulations instead. According to the daughter, the fine was deducted from a S$22,600 deposit paid, so they had no choice.
Despite emailing in to the General Manager of of the Retail division of NTUC Foodfare Jeffrey Ling, the fine imposed on her and her father's stall was deducted – without being authorised by the family – from their deposit paid.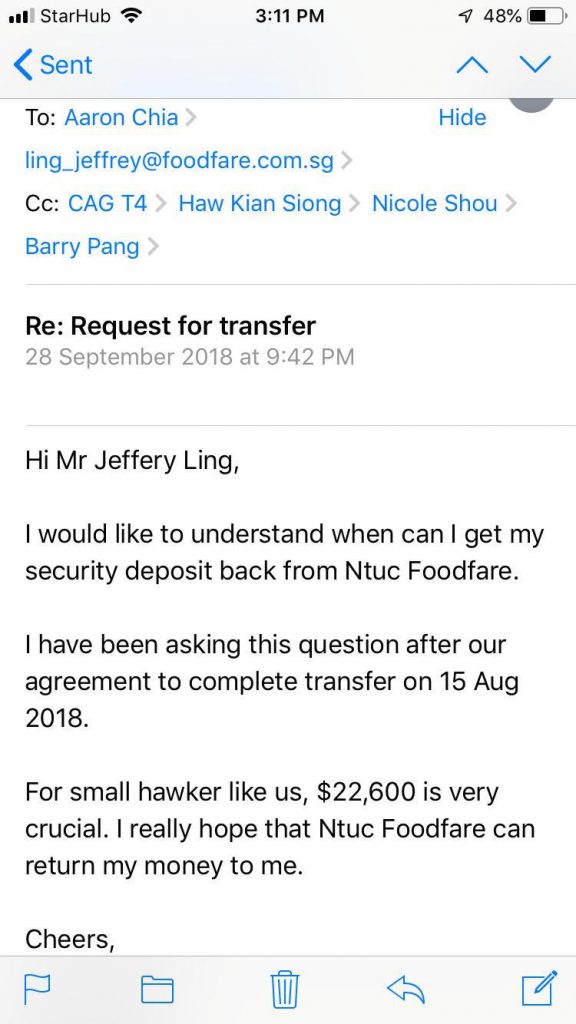 In their response, Aaron Chia, Assistant Operation Manager of the Retail division of NTUC Foodfare wrote, "Kindly take note that as a stall operator, we cannot take into consideration that one of the staff is down due to unforeseen circumstances and there is no one else back up and to manage the stall. More importantly, there should not be only one person operating the stall".

Another story, another hawker overworked
In her email to TISG, she also cited another incident she witnessed, where an elderly hawker "who was operating 2 food stalls in Changi Airport Terminal 4 was facing staff issues as some of his staff had to go back to their country during this festive occasion. He then applied multiple times to NTUC Foodfare to shorten his opening hours for the first 2 days of Chinese New Year but was continuously rejected".
As a result, stall owner uncle hence decided to operate the stall on his own, during the hours of 5am to 11pm daily. "On the second day of Chinese New Year, he suddenly felt unwell and was rushed to the hospital; he passed away in the hospital. His heart surgeon confirmed that he collapsed as he was overworked".
Despite his family deciding not to continue the business with NTUC Foodfare, there still remained more than $40,000 of deposit with NTUC Foodfare.  It took the family six months, and they only got back 50% of their deposit as only one of the two stalls was signed under a company, while the other one was signed under sole proprietorship.
The hawkers pay the price
At the end of the email, the hawker's daughter griped, "It is saddening to see how a government link food operator who claims as a non – profit organisation being so inflexible and ignores the health situation of their tenants."
"Perhaps this is how they managed to have money to buy over Kopitiam – rumoured to be purchased at $400 million", she wrote.
________________________________________________________________________
obbana@theindependent.sg