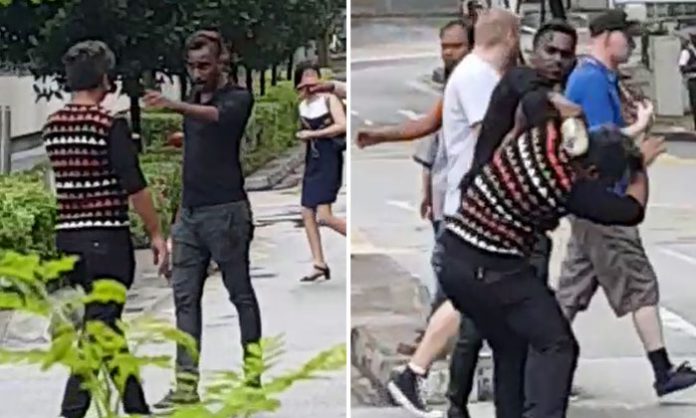 A 25-year-old has been arrested for rioting after he was involved in an alarming fight at Claymore Road, near Orchard Towers, on Saturday (10 Mar).
Videos of the fight that have been escalating shows two men engaged in an altercation before one of them swings what looks like an empty glass liquor bottle at the other man's head, hitting his neck. The bottle falls to the ground when the first assailant tries to swing it again and the man who was hit by the bottle picks it up.
A second video shows the man who was hit in the neck throwing the glass bottle with great force at the man who swung the bottle at him.
As traffic flows heavily, another man joins the fray and attacks the man who was hit in the neck before he, himself, is thrown onto a moving bus. The third man appears to have injured his back due to this and can be seen walking, after this point, clutching his back:
It remains unclear exactly what caused the dispute.
The second video appears to be surveillance camera footage that is dated 10 March 2018. A police spokesman confirmed this and told reporters that they were alerted to a case of rioting at Orchard Road 9.32am that day: "A 25-year-old man was conscious when conveyed to Tan Tock Seng Hospital and was subsequently arrested in relation to the case."