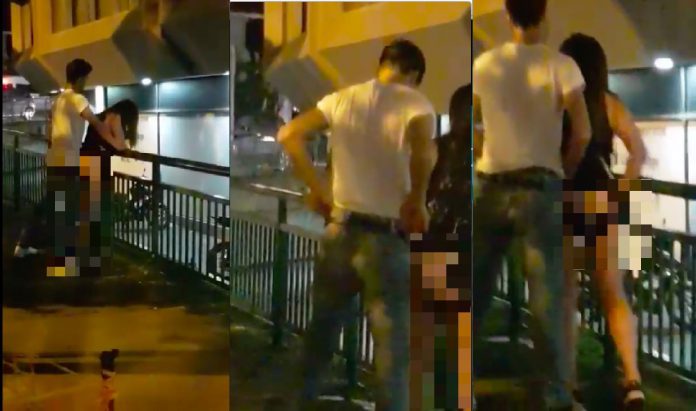 The police revealed yesterday that a man who allegedly had sex with a woman outside Orchard Towers, along the sidewalk of Claymore Drive, has been arrested. The police are presently trying to find the woman who was involved in the act.
This, after videos and pictures capturing the 30-year-old male having sex with a woman against the sidewalk railings, in full view of the public, went viral online late last month:
Yet another couple have sex in full view of the public, this time outside Orchard Towers
Police officers apprehended the man after establishing his identity through the help of surveillance camera footage from the area. The police added: "Efforts to establish the identity of the woman are still ongoing."
Although such cases of couples having sex in public are increasing in frequency, those caught by the authorities risk being slapped with public indecency charges under the Miscellaneous Offenses (Public Order and Nuisance) Act.
Those who are found guilty of public indecency may face a $2000 fine and 3-month jail term if convicted, according to the the law:
"Any person who appears nude (a) in a public place; or (b) in a private place and is exposed to public view, shall be guilty of an offence and shall be liable on conviction to a fine not exceeding $2,000 or to imprisonment for a term not exceeding 3 months or to both."
Couple have sex outside preschool in River Valley; woman scolds passer-by who tried to tell them off