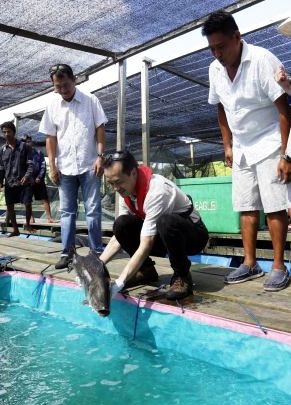 Dr Koh Poh Koon, Minister of State (Trade and Industry), was guest-of-honour at an event organised to showcase a co-partnership programme by the Agri-food & Veterinary Authority of Singapore's (AVA) and some local fish farms.
The co-funding programme's aim was to help local fisheries deal with harmful algal blooms which had killed tonnes of fish in the past years. This programme allowed for AVA to co-fund 70 percent of the cost to restock fish-fry once the fish farms could demonstrate that they have in place contingency plans to mitigate the impact of a future occurrence of algal-bloom.
"With global warming being a global phenomenon, fish farms all over the world are facing challenges like this," said Dr Koh at the inauguration event.
"As part of business continuity, our fish farmers need to really think about using and leveraging on technology to make the business resilient. At the end of the day, it is not just about their business being resilient, but also our food source being resilient," he added.
A video-clip of the event by Channel NewsAsia (CNA) in their Facebook, showed Dr Koh releasing a 5-year-old male Asian seabass into a tank to inaugurate the the success of the co-funding programme to shouts of, "Huat Ah!" (roughly translated to mean 'be prosperous').
But instead of happily swimming away in the tank, the fish went belly-up.
Last year, coastal fish farms in Singapore lost more than S$1 million to a plankton bloom. How farms are working to prevent losses in future: http://bit.ly/1OscysTEDITOR'S NOTE: Some of you have left comments saying the fish went "belly up". It was sedated before it was released and is alive and well.(Video: Afifah Ariffin)

Posted by Channel NewsAsia Singapore on Monday, 18 January 2016
People who watched the video-clip assumed that the fish was dead and commented that it was inauspicious to have a belly-up fish in the kelong.
A commenter Tiger Yan said, "Dead fish denote bad luck. So stupid…want to video and show people, take a active live fish to do. Throw a live fish….denote the future is bright."
Others were less forgiving of Dr Koh. "Everything he touches dies," said Sharon Lee.
The viewers comments required the editor of CNA to explain that the fish did not actually die but that "it was sedated before it was released and is alive and well".
Managing Director of Marine Life Aquaculture, Frank Tan, also chimed in saying that it was his idea to have Dr Koh release the fish as an auspicious sign, and that the fish was "alive and swimming happily within it captive group".
He also said that it was common practice to sedate "fishes every month using food grade clove oil to check for individual spawning readiness", and that they will usually wake up within 20 -25 minutes.
It is the best humane way to handle such big fish to ensure that it does not hurt itself, the fish farm owner said.
His explanation however failed to assuage some other commenters.
"Reminds me of this funeral," said Shannon Lim in sharing this other video:
[fvplayer src="http://youtube.com/watch?v=HlJUcJnoNFk"]