The IATA (International Air Transport Association), along with certain airlines and economic travelers have aired their dismay over the plan to raise airline and departure fees at Changi Airport starting from July 1. This increase will fund the airport's development and expansion plans.
However, a brief survey among travelers through Changi showed that first class and business class travelers are less concerned over the increase.
Plans for development include building Terminal 5 in Changi East. This terminal is planned to be very large in size. Changi Airport's departure fees, which used to be $34, will go up to $47.30 in July, while the fee for transit travelers will go up from $6 to $9.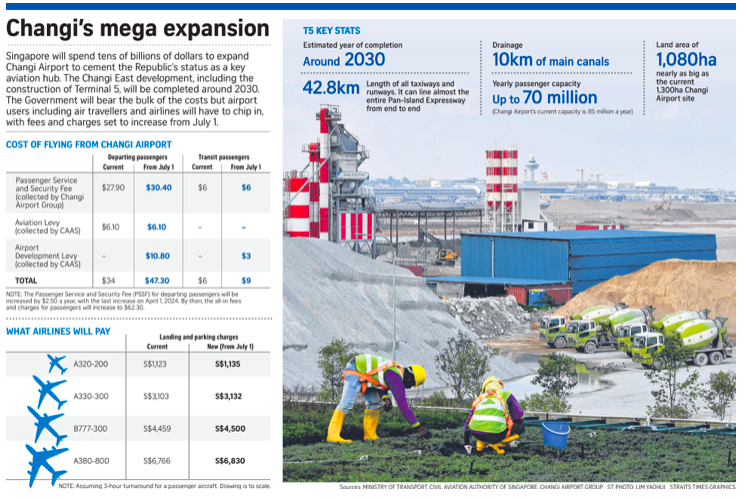 However, experts say that since some of the additional fees will be part of the cost of air tickets, airline companies would also shoulder their share of these fees, instead of the burden falling solely on travelers themselves. But these are not the only additional fees that airlines have to contend with, since they also face bigger charges for landing and parking fees.
The Changi Airport Group announced a one percent increase in airline fees every year through the next six years, starting July 1. To give an idea of this, for example, an Airbus 380 will be paying $6830 for every flight after July 1, which is higher by $64 than airlines pay at the moment. However, by 2024, airlines could be paying as much as $490 more.
Qantas, Australia's flagship carrier has expressed concern at the higher fees, since it puts the burden on passengers.
The Vice President of IATA (Asia Pacific) also expressed his concerns for airline operators in the region,  "The airline industry is against pre-funding for infrastructure projects. It is unfair to expect passengers and airlines to pay in advance for a facility they may or may not use in the future when the facility is ready."
Some netizens were also critical for Changi's fee increases
Others were concerned with a possible loss of tourists and visitors to the country