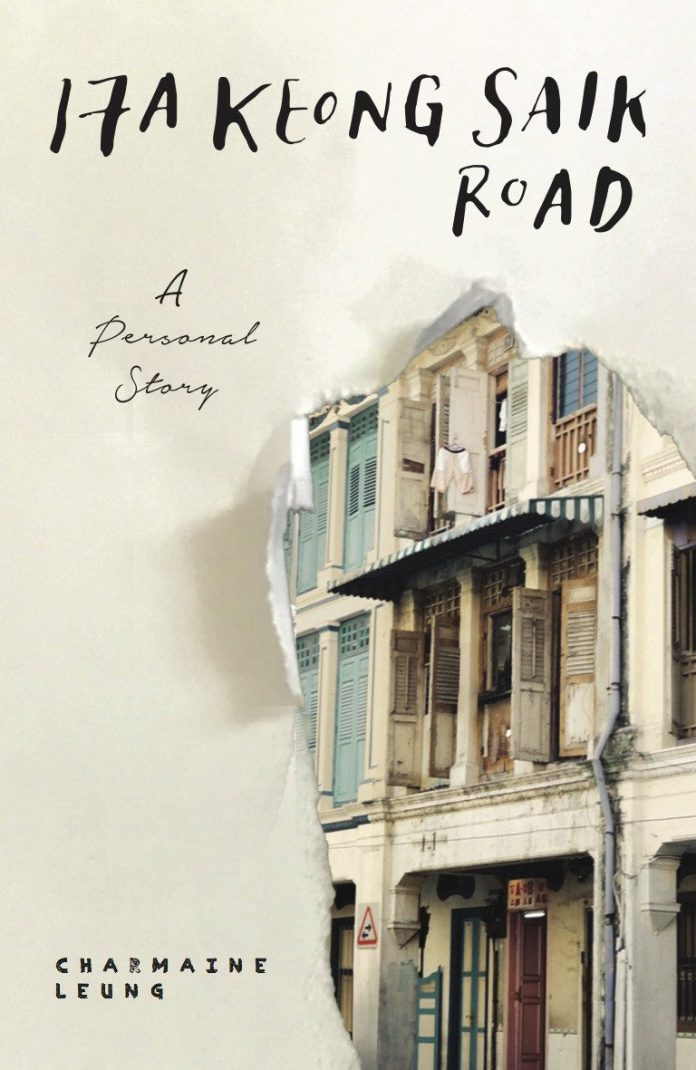 "Strong air conditioning coming from the rooms; the smell of perfume and cologne tingling in the air; and soft murmurings of male and female voices from behind closed doors. But I was too young still to piece these vague scenes together and form an understanding of what it all meant. Ironically, being a daughter of a madame prevented me from learning about sex." – chapter 12, 17A Keong Saik Road, Charmaine Leung
By Laura Zhang
This is a personal story of the ashamed and torn – of a girl who was brought up in a brothel. Through reconciliations of secrets, Charmaine unfolds her version of Keong Saik Road, where her mother, Koon, was running an "entertainment business" in the 1970s.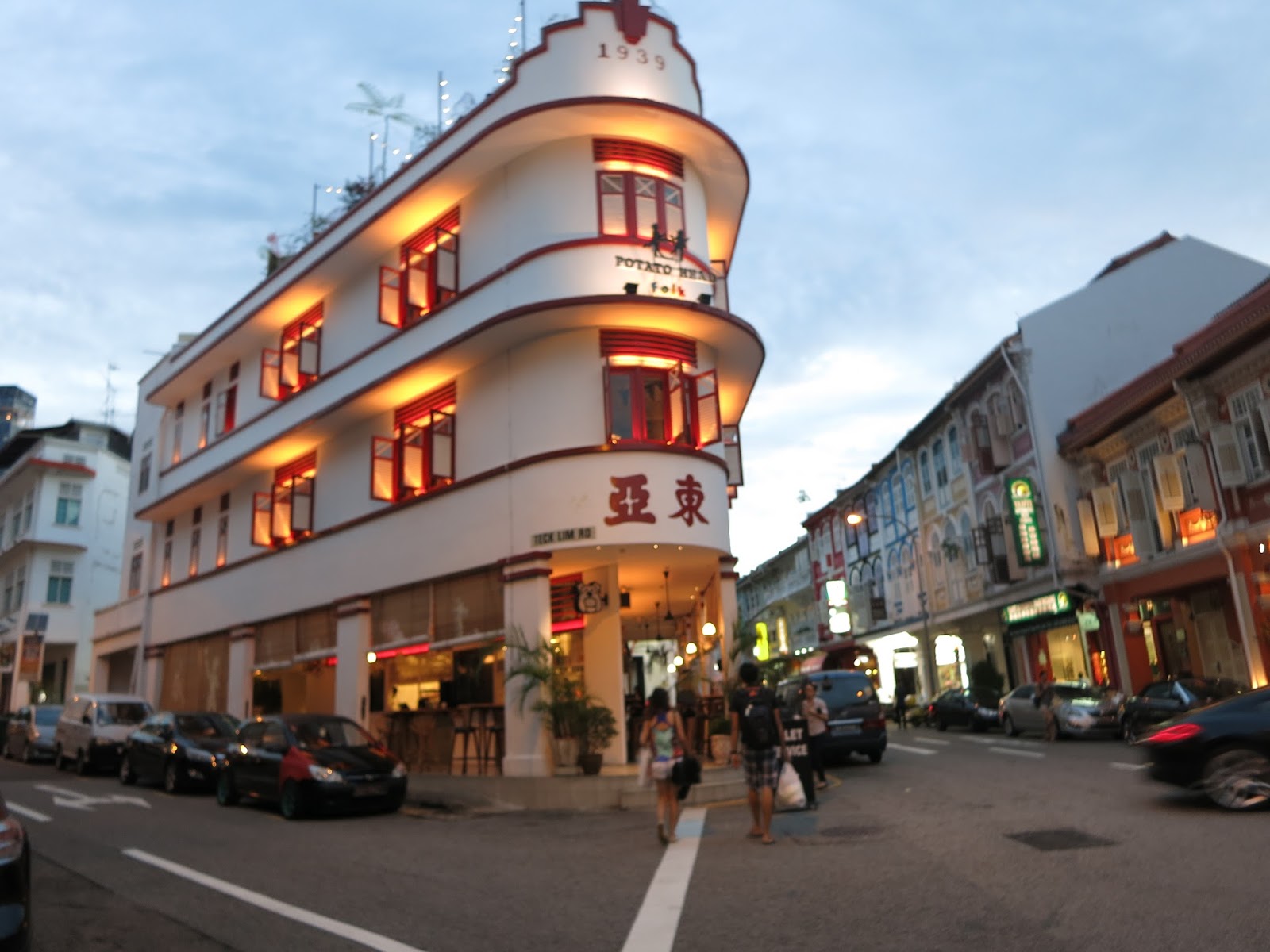 My mother is sold on market
Koon was born in a poverty-stricken family of six in a rural village in Peninsular Malaysia. Koon's good nature was not an asset in such a superficial era. Rather, her gender and inferior appearance brutally fated her as an unwanted child. She was soon sold to Singapore, and became permanently separated from her parents. Keong Saik Road, a red light district then, was where Koon stayed with her adoptive mother.
The eight-year-old Koon witnessed the business routine she had no clue of. All she could bring forth was diligently serving the guests as a helper in the "geisha house". Girls called pei pa zai (little pipa players) dominated. Meanwhile, Keong Saik Road also bore an alias of "Mistress Avenue" as men typically developed fervent desire towards some ladies there.
"About five times a week, men dressed in nice shirts and pants showed up in the late afternoons in groups of three to four people. Young, pretty ladies who carried musical instruments would soon appear to entertain these men, wining and dining with them."
Geisha house to brothel
Soon, her adoptive mother became a madame. The business had evolved into a downright brothel as fiercely demanded by the society – sex service became explicitly traded upon. Dai gu liong (big ladies) replaced old-fashioned pei pa zai as men's appetite escalated.
Of course, there came the standard rates with three options:
$10 for massage-only service where $2 was given to the brothel as commission, and $8 to the dai gu liong who provided the service.
$20 for sex-only service where $4 was given to the brothel as commission, and $16 to the dai gu liong who provided the sexual service.
$30 for massage-cum-sexual services where $6 was given to the brothel as commission, and $24 to the dai gu liong who provided the massage and sexual service.
"Once 'the cannon had been fired' (semen had been ejaculated), the service was considered done."
Innocence vs reality
Fast forward to 20 years later, the impregnated Koon, while separated from her husband whom she met in a Hong Kong trip, had to take over the business when her adoptive mother was drawing her last breath.
Koon gave birth to Charmaine, the author, while struggling as a brothel operator involuntarily and unprofessionally.
Innocent Charmaine tried broaching the subject repeatedly.
"How come the toilet paper are all stuck together? And… there's a strange smell too." The question was met with silence from her mother. She was gradually swamped by the realization that her background is an entire taboo.
"How was a mother going to explain her six-year-old child that those soiled and scrunched up toilet paper were the result of dai gu liong cleaning the semen off their male customers after they had ejaculated, and the strange smell was overnight semen being exposed to the atmosphere?"
Mary has outstanding 'blow job' skills
Befuddled, yet isolated, young Charmaine grew up independently as she witnessed how women reckoned upon sex work for survival. Of all, Mary was a classic example.
As openness of minds took a step further, men were no longer satisfied with conventional sexual intercourse. Special services such as 'blow job' (oral sex) and 'hand job' reigned over as added variation of the experience.
Plain-looking Mary did not start off popular. However, she quickly equipped herself with a unique selling point – adept blow job skill, and it became a hit. Shortly, dai gu liong who offered oral sex were titled "Taiwanese Singers".
Mary acquired the "skill" from her barbaric ex-boyfriend back in Malaysia. He pushed her for sex services to pay for his debts. He also "forced himself on her and made her do all sorts of derogatory sex acts." From there, Mary sought for her eternal liberation by fleeing to Singapore, where she could be in control of her fate, instead of being exploited. She was wishing a day to retire with enough possession from her own blood and sweats.
"The make-up that they put on their faces seemed like an indomitable shield, distinguishing the reality of their plight and the essence of who they were; the quiddity which made them unique individuals were completely erased and lost to the world."
A void that never filled
Growing up amongst women who were prostitutes could be a bizarre experience. Further, guys down the street behaved shabby – loitering and flirting, flashing her unwanted attention. With those distorted imageries of males, Charmaine felt deeply embarrassed as she approached puberty and understood more of the topic. Sex.
Worse, her father failed to migrate to Singapore, and when they finally reunited, he got stricken by sudden death on a fine evening.
There is too much bitterness to be fathomed – a sense of inadequacy from the absence of a father, shame arose out of the notorious postcode, detachment due to chee-na and alcoholic upbringing…
"This book is relatable to anyone who has walked out of darkness," said Charmaine at a conversation session on The Language of Belongin at Kinokuniya at 19 August (Saturday).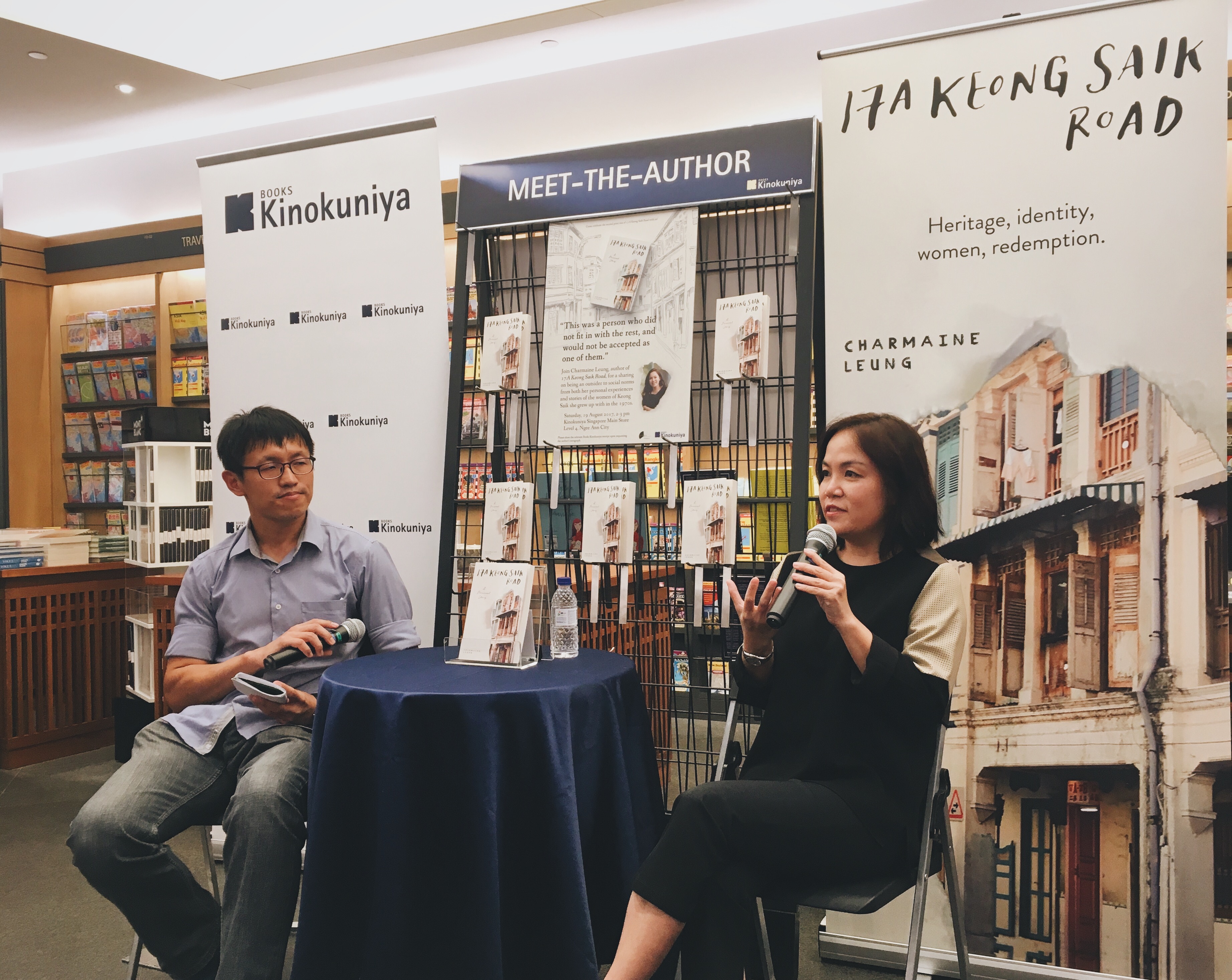 Her first book, 17A Keong Saik Road, strikes readers with contemporary definitions to heritage, identity, women and redemption. It has transcended the forgotten Singapore history of the obscure red-light district to a modern presence.
According to the publisher, Ethos Books, over the span of a month in July, sales of the masterpiece has hit 1,000 copies, much exceeded their expectations.
"The story will die with me if I didn't talk about it," said Charmaine Leung.
Hoping that it will too help her mother heal, Ms Leung has been reading the book page by page in Cantonese to her mother every week.
17A Keong Saik Road ($19.90) is available at Books Kinokuniya, MPH, Booktique, Grassroots Book Room and City Book Room.