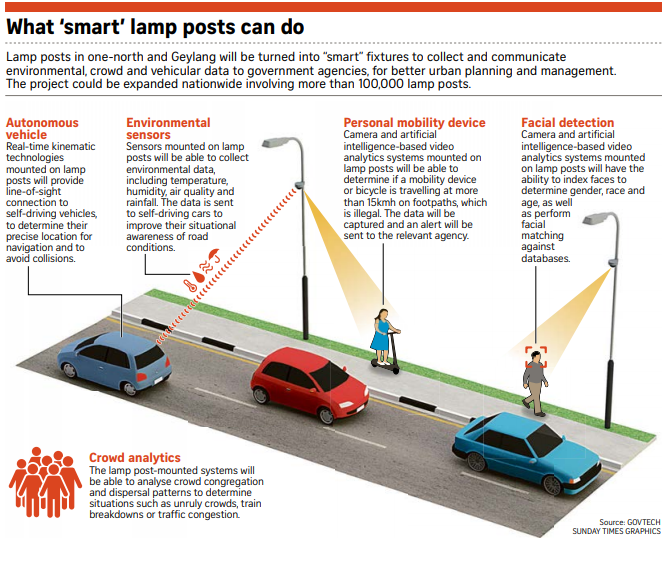 By Irene Tham
Singapore's plans to turn lamp posts into smart fixtures that can analyse faces and match them against databases have raised privacy concerns.
This is despite the potential for better law enforcement here.
Housewife Esther Lim, 43, said: "Facial indexing is too intrusive on citizen privacy, even though the end may justify the means." Tender documents seen by The Sunday Times revealed that street lamps in one-north and Geylang will be the first to be "smartened up" with artificial intelligence-based video analytics systems that have the ability to analyse faces to determine gender, race and age, as well as perform facial matching against databases.
Lawyer Gilbert Leong, a senior partner at Dentons Rodyk & Davidson, said the Government should provide more clarity on who has access to the facial recognition database. "The database should strictly be used for public order and law enforcement, and should not be allowed to be used as court evidence in a private lawsuit," he added.
But online bookstore owner Jiang Meiru, 36, looks forward to better law enforcement, especially against speedsters riding e-scooters or bicycles on pedestrian pathways.
"They endanger the safety of children and elderly people," said the mother of two children, aged
eight and one.
E-scooter users speeding on footpaths have been a public menace, with 30 reported collisions with pedestrians between January and September last year.
During the same period, there were 80 accidents at road junctions and on roads that also involved e-scooter users riding illegally along side vehicular traffic.
Digital business lawyer Koh Chia Ling of law firm OC Queen Street said: "Spying lamp post or not, the
end does justify the means. But potential data breaches need to be mitigated by not collecting data indiscriminately."
For instance, the AI systems can be programmed to start conducting face scans only when an anomaly is
detected, he added.
SPH/ST