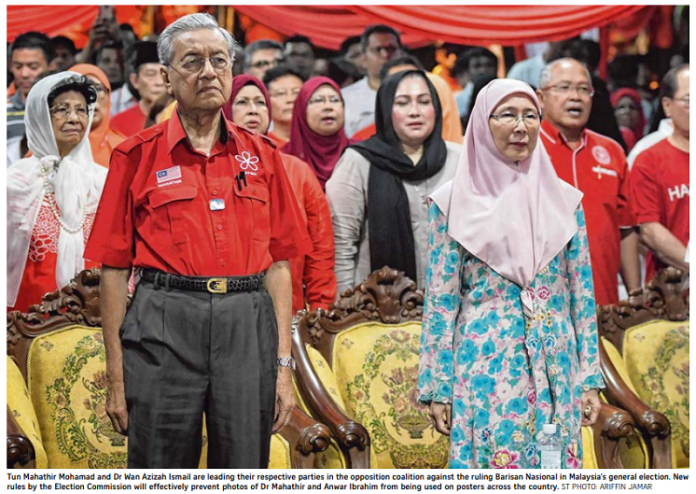 Reme Ahmad, South-east Asia Editor In Kuala Lumpur
Malaysia's opposition has decried a move by the Election Commission (EC) that will effectively prevent photos of Tun Mahathir Mohamad and Anwar Ibrahim being used on posters across the country ahead of the May 9 election.
The EC on Tuesday issued new guidelines for candidates stipulating that photos of only two leaders of a political party – the president and deputy president, or their
equivalent – can be used on campaign materials, other than the photo of the candidate for that particular constituency. And the two leaders must be from the party that
the candidate represented on Nomination Day, which is this Saturday.
Pictures of other officials are not permitted, according to guidelines published on the EC's website.
As Dr Mahathir, who heads opposition coalition Pakatan Harapan (PH), and other opposition leaders have said they will contest the election using the logo of Parti Keadilan Rakyat (PKR), the rules mean that only pictures of PKR president Dr Wan Azizah Ismail and deputy president Azmin Ali can be used.
Likewise, photos of Barisan Nasional (BN) chairman Prime Minister Najib Razak and his deputy Ahmad Zahid Hamidi can be displayed across the country, as can photos of
PAS president Abdul Hadi Awang and his deputy Tuan Ibrahim Tuan Man in seats the party contests.
However, a candidate can display his photo in the seat he is contesting. This means Dr Mahathir – who was Malaysia's prime minister for 22 years – can have his posters only in Langkawi where he will stand.
Photos of Anwar – PKR's de facto chief who cannot contest as he is serving a jail term, but who remains a powerful symbol for the opposition – would also be disallowed.
But photos of top party leaders with menteri besar and the candidate can appear on the same campaign poster in a state.
EC chairman Mohd Hashim Abdullah said in a statement on Tuesday that the new guidelines will ensure the election campaign, which officially starts on Saturday, "will
be peaceful, smooth and not confusing to voters". In the past, the EC had, with the help of town council workers and the police, taken down posters that they said failed to adhere to election rules.
The four main opposition parties in PH – PKR, Democratic Action Party (DAP), Amanah and Dr Mahathir's Parti Pribumi Bersatu Malaysia (PPBM) – decided to use only the PKR logo for the polls after their plan to get PH registered was blocked by the Registrar of Societies (ROS), which said PPBM had failed to satisfactorily submit documents relating to its meetings.
On Monday, the Kuala Lumpur High Court granted PPBM a stay against the ROS order for it to temporarily suspend all activities. But the PH parties are still going ahead
with using only the PKR logo.
The opposition yesterday billed the latest EC guidelines as another government action to straitjacket them. Said PKR president Dr Wan Azizah: "It is a desperate move to forbid the usage of Pakatan Harapan's de facto leader Anwar Ibrahim and Harapan chairman Dr Mahathir Mohamad from GE14 campaigning materials."
DAP secretary-general Lim Guan Eng said the ruling was clearly intended to stop Dr Mahathir's image from appearing on election posters. "It's an effort by the Election Commission to help BN steal the election. It is not fair, don't let them do it," Malaysiakini cited Mr Lim as saying at a press conference in Penang.
The government has been accused of putting obstacles in the opposition's way by redrawing electoral maps to BN's advantage, and holding polling day on a Wednesday
as this gets in the way of Malaysians returning to their hometowns to vote.
Electoral reform group Bersih said of the latest rules: "There have been no problems with featuring other individuals in campaign materials of political parties for the past 13 general elections, so why are these additional regulations suddenly needed now?
SPH/ST