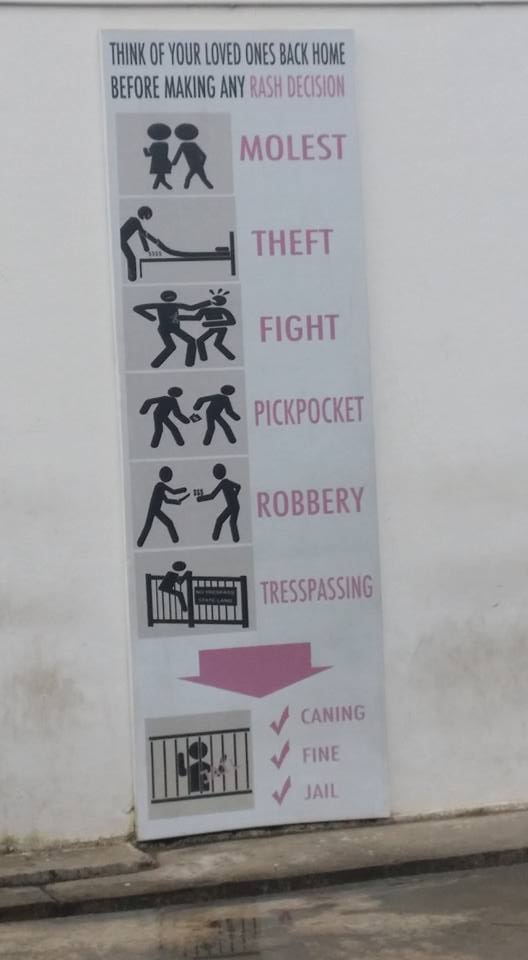 A foreign workers' dormitory in Jurong has put up a sign in its vicinity warning its residents to think of their loved ones back in their home countries, before committing crimes like robbery and molest. It further warns them of fine, canning and jail-term if they commit such crimes here.
Social worker Jolovan Wham shared this post on his Facebook and said:
"Is there any evidence that low wage migrant workers are more likely to commit such crimes than middle class migrants and Singaporeans? If not, the dormitory management should take this down as it is discriminatory and perpetuates oppressive and offensive stereotypes."
The social worker tagged the dormitory Terusan Lodge 1 in 5A Jalan Papan in his post.
Terusan Lodge 1 is a purpose-built dormitory for foreign workers, mostly from the construction industry. It can accommodate up to 5,300 workers and has 24-hour security guard service, one minimart, hawker centre and bar, kitchens, television rooms and a sports ground.
In December 2013, PM Lee Hsien Loong said:
"I don't think that is fair or justifiable because their (foreign workers) crime rates are, in fact, lower than Singaporeans in general."
In January of 2014, Mrs Lina Chiam of Singapore People's Party asked the Deputy Prime Minister and Minister for Home Affairs in Parliament, "from 2009-2013 what is the breakdown of crimes committed by (i) Singaporeans (ii) permanent residents and (iii) foreigners respectively."
Mr Teo Chee Hean replied to Mrs Chiam that, "between 2009 and 2013, more than 18,000 persons were arrested each year. Of these, about 20% were foreigners. Between 2009 and 2013, the arrest rate for foreigners was 272 per 100,000 foreigners, while the arrest rate for residents, which include Singaporeans and Permanent Residents, was 385 per 100,000 residents."