Former Nominated Member of Parliament (NMP) Calvin Cheng took to social media to call out the mainstream media on its unfair coverage of the Aljunied-Hougang Town Council (AHTC) trial. However, he also clarified that while he felt that the media made Workers' Party (WP) "MPs look like alleged criminals being prosecuted by the state", his post was not in support of them.
In a Facebook post yesterday, Cheng expressed his view saying, "I personally think that the MSM especially The Straits Times is covering the AHTC trial badly".
"This is a civil trial not a criminal one – yet the reporting is singularly focused on Davinder Singh's cross examination, and the plaintiff's point of view. He isn't the Public Prosecutor here but the lawyer of the plaintiffs", he continued.
Cheng also said that "The journalists should cover the trial as a civil trial as it is and stop making the WP MPs look like alleged criminals being prosecuted by the state".
In a follow-up post a few hours later, he clarified, "Addendum to the post below: You are delusional if you think that it was in support of the WP."
The former NMP expressed the opinion that "Going all hammer and tongs at the defendants every single day with headlines blaring out at us is just going to add to the (wrong) perception that this is a political persecution. It doesn't help that the plaintiff's lawyer was a PAP MP".
"At the end of the trial, what will be just as important as the verdict is what people think. And in this, media, traditional as well as social, will play a big role. All media players need to remember this", he concluded.
Many netizens agreed with Cheng's sentiments and said that it was indeed fair comment. They also expressed that the media portrayal would eventually have a hand in shaping future politics.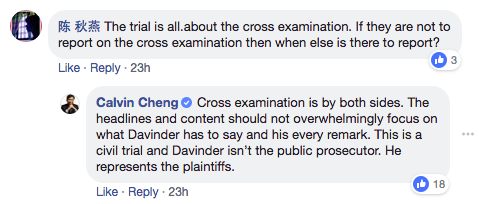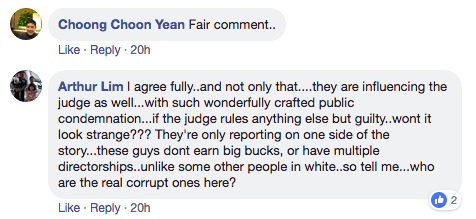 ________________________________________________________________________
obbana@theindependent.sg