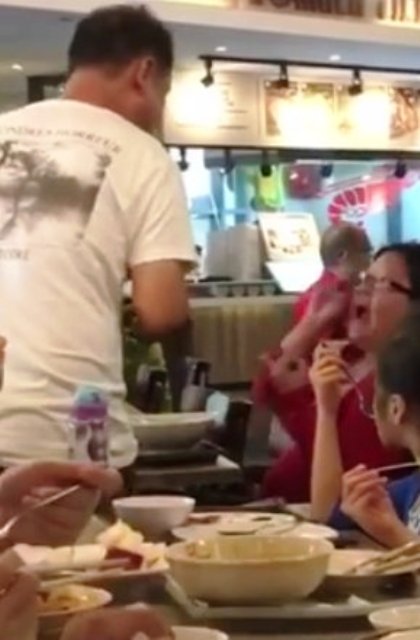 Alice Fong told the Chinese newspaper Lianhe Zaobao yesterday that she visited the deaf-mute cleaner she berated at JEM on 3 June with a gift hamper to apologise for her unwarranted outburst. Shin Min however reported that no such hamper of apology was actually offered. The cleaner's elder brother confirmed this with the newspaper.
Regardless of the hamper or the apology, the cleaner, 64-year-old Png Lye Heng, said that he has forgiven the woman. He said that he felt 'slightly hurt' by her verbal assault, but that forgiveness was the best.
Mr Png has also decided to resign from his job at the foodcourt in JEM. He said that his decision has got nothing to do with the berating he got from Alice Fong but that he had planned to quit his job before the incident.
Mr Png said that had enjoyed working at the food court and did not find it difficult to work there, but that workload has increased because the cleaning company was short handed.
Alice Fong earned the ire of netizens after Facebook user, Euphemia Lee, shared a disheartening video on Jun 3 showing a woman in a crowded eatery at JEM berating an elderly cleaner for misunderstanding her and trying to clear her table while she hadn't finished her food.
Euphemia recounted: "The cleaner misunderstood her grunting when he asked if he could clear her tray for affirmation. She abruptly exploded into cursing and violent upper body actions. She then told him that he should go and die and should not be given a coffin. She then continued eating until her husband returned, after which she insisted her husband drag the old man back to their table to APOLOGISE to her."
It was then that the woman and her husband were notified that the cleaner is deaf and dumb. The woman then continued to make a scene and demanded the cleaner to apologise to her despite the food court manager's best attempts to placate her. In short, the woman eventually implied that "old and disabled people should not be given employment nor forgiven for their mistakes. And that they should just be beggars and wait for the government to feed them."
See the video in full here: