Karamjit Kaur
Senior Aviation Correspondent
and Jasia Shamdasani
A new and bigger arrival hall has opened at Changi Airport Terminal 1, but those waiting to receive their loved ones and friends will not be able to see them through the glass walls.
The old arrival area has been closed and will be renovated in the coming months, to expand the existing baggage claim area.
With the opening of the new arrival zone on Tuesday, travellers collect their bags and walk down a passageway before entering the public area which used to be the road outside the terminal.
 A key highlight is a 460 sq m garden – Changi's first in a public area – that features 12m- to 15m-high palm trees, as well as dragonfly topiaries and sculptures.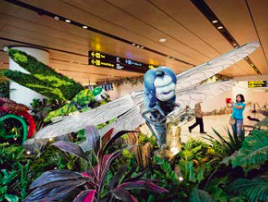 There is also a pond inside the gar-den, said Changi Airport Group spokesman Ivan Tan, who added: "We hope visitors will enjoy the specially curated dragonfly-themed flora collection and feature pond."
The $323 million expansion and upgrade of T1 is part of the development of Jewel Changi Airport, a mainly commercial complex slated to open next year.
Both buildings will be connected when all the works are done.
This will allow arriving passengers to walk directly into Jewel, said Mr Tan.
The upgrades at T1 include increasing the number of baggage claim belts from eight to 10 and al- most doubling the floor area.
By the year end, a new carpark will open to serve both T1 and Jewel. This will benefit T1 users, who now have to leave their vehicles at a temporary facility at T2 and hop on the Skytrain to T1.
The new carpark will also have 2,500 parking spaces, triple that of the previous open-air one at T1, which was closed in 2014 to make way for Jewel.
Works on the T1 expansion project began in March 2015.
The T1 upgrade will increase Changi Airport's total handling capacity from 82 million passengers per annum to 85 million, said Changi Airport Group.
Travellers and visitors whom The Straits Times spoke to at T1 on Tuesday were happy with the up- grades so far.
Retiree Goh Bee Hong, 66, said: "I remember this place used to be a carpark and the terminal was not very nice, but now it looks very good. The newly renovated arrival hall is really beautiful."
Teacher Jenny Teo, 41, was especially pleased with the dragonfly garden display.
"The whole area is now open and bright unlike the previous arrival hall, which was a bit dark," she said.
SPH/ST