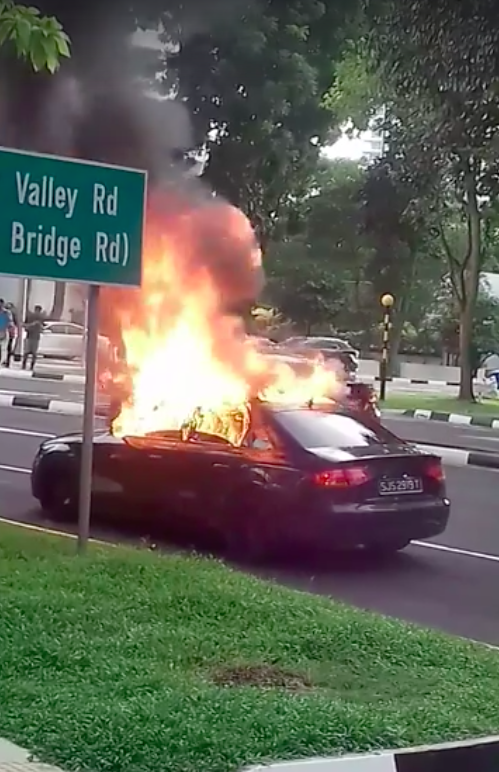 Yesterday evening, a black Audi exploded into flames along Killiney Road, with its three passengers fleeing the scene. No one was harmed in the incident, but according to Shiera, 35, a security guard on duty at a condominium nearby, the police are still on the lookout for the driver.
Today haplen at killiney rd infront of claremont condo…audi black (SJS2919T).car was indentified as rental car.Police is looking for driver n passangers who manage to run out n disappear

Posted by Iera Muslimah on Thursday, 13 September 2018
The incident took place at about 6.25pm in the evening. The driver of the Audi deployed his emergency brake before him and two other passengers ran out from the car. Security guard Shiera said that the car then exploded into flames, with the fire coming out very fast from the bonnet, and breaking the windshield. Shiera added that she was about to check on the driver and the passengers when the car burst into flames.
According to her, two firemen arrived at the scene by 6.32pm, followed by two fire engines and three police cars.
She alleged that the police were trying to find the driver. After the flames on the car were extinguished, the police can be seen emptying the contents of the car boot.
________________________________________________________________________
obbana@theindependent.sg