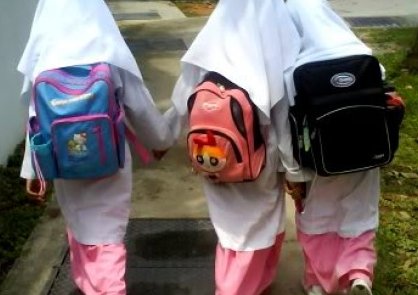 The 48-year-old man who assaulted three Madrasah students on 1 Apr in Paya Lebar MRT station has been sentenced to six months jail. He was earlier ordered to be remanded at the Institute of Mental Health for psychiatric evaluation.
The assailant, Koh Weng Onn, had made a "disproportionately high" number of 90 police reports over five years. A bulk of these reports appear to be generated by Koh's belief that he had been targeted by others.
Among the reports made by Koh, a security guard, were the ones he made against a sales person immediately after buying a product from her, a lady whom he perceived was sitting inappropriately, reports on quarrels with his colleagues on their work deployment, and against strangers whom he believed bore him ill-will, the court was told.
Koh's elder brother, Johan Koh, further clarified in Facebook that his brother is not a racist, but has mental illness. The elder Koh said that the accused refused to be persuaded by the family to seek help for his suspected mental condition.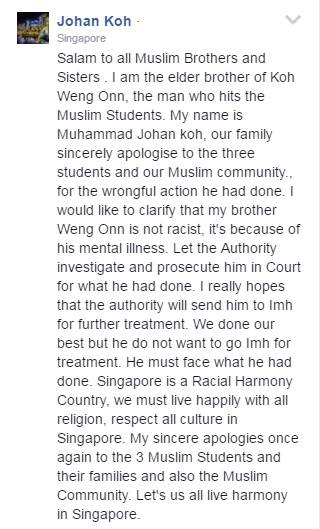 Suspicions that the attack on the students was racially motivated arose after Ms Nisha Mohd Hussein, a discipline mistress at Madrasah Al-Ma'arif Al-Islamiah in Geylang posted in her Facebook about the attack.
In her post (which's privacy setting has since been changed to private) Ms Nisha alleged that her students were kicked and hit by "a foreign Chinese middle-aged man wearing a red t-shirt, light brown bermuda with black boots carrying a green backpack while holding a white plastic bag filled with a heavy item."