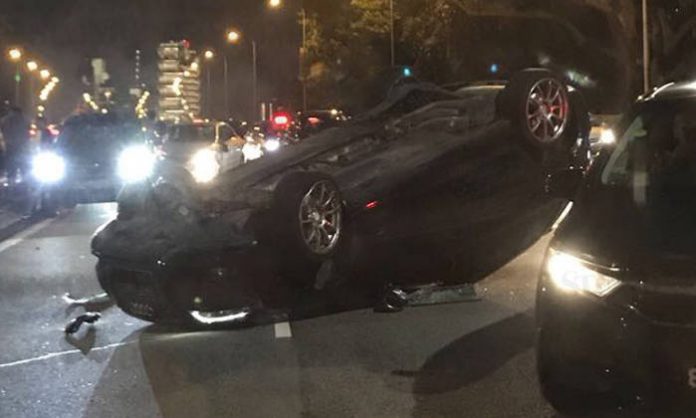 Seven people, including three children, were injured after a four-car collision along Sheares Avenue on Saturday night. Dashboard camera footage capturing the accident shows a black Audi overturning after colliding into a silver vehicle and the impact from the crash causing the cars to hit two other vehicles:
Audi accident along Sheares Avenue

Accident witness video of Audi flipping over at Sheares Avenue (towards Sheares Link). Audi SKF1583R hits silver Toyota Altis that swung out of lane into the path of oncoming Audi causing it to flip over. Hope this video will be of help in insurance claims.Wishing all involved a speedy and full recovery.Accident happened 2/6/18 at around 7.35pm.Credit: JHC(Reminder, get $50 CASH when you renew your insurance on https://www.vouchinsurance.sg/?ref=ROADSSG)

Posted by ROADS.sg on Saturday, 2 June 2018
Photos capturing the aftermath of the accident have also been circulating on social media. These pictures show the overturned black Audi, the silver car that is left with a punctured front left tyre and debris strewn about on the road beside the black Audi.
A group of people can also be seen waiting alongside the road, by a divider:
All seven victims were conscious and in stable condition, according to the Singapore Civil Defense Force (SCDF). The adults were conveyed to Singapore General Hospital, while the children were taken to KK Women's and Children's Hospital.
Police investigations are ongoing.